Gorilla trekking in Uganda is the most interesting, thrilling and memorab
le experience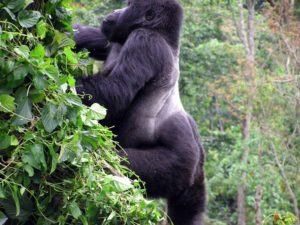 a Must try on your African Safari in true African Impenetrable Jungle. It involves walking in the wilderness in search of the great apes.
It can be a challenging activity, therefore ensure physical fitness.
Uganda has two well conserved National Gorilla Parks i.e. Bwindi Impenetrable Forest National Park and Mgahinga National Park.
Mgahinga National Park Uganda
Mgahinga National Park is famously known by tourists for mountain gorillas tracking in the true African thick jungle. This where Mountain Gorillas, different species of Birds and other animals are found
Given its panoramic view stretching northward to Bwindi, and a southern skyline dominated by the steep volcanic cones of Virungas, surely one of the most memorable and stirring sights in Africa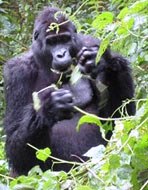 In 1930, the British administration established Mgahinga as a Game sanctuary to protect the gorillas and other wildlife. In 1941 Mgahinga Forest Reserve was established to protect the forest with the animals and forests managed by different ministries.
In 1989, growing international pressure led to the establishment of the Gorilla Game Reserve Conservation Project, with support from a private German Conservation organization, which worked with the Forest and Game departments to enforce laws, survey wildlife and develop sustainable tourism.
In 1991, Mgahinga Gorilla National Park was gazetted with the same boundaries as the original game Sanctuary.  It currently has one habituated Gorilla group known as Nyakagezi with Mark as the dominant silverback assisted by one subordinate silverback two adult females and 2 infants.
Bwindi Impenetrable National Park
Bwindi Impenetrable National Park is habitat to approximately half of the world's mountain gorillas. The national park has 90 mammal species, plus 11 primates, of which the black-and-white colobus, with its beautiful flowing white tail, is famous.
The mountain gorillas have basically become a national emblem thus using them to be the country's most significant renewable natural resource.
The forest floor is quite damp and laden with leaf mould, matted vegetation and fallen vines, which serve to trip you up as you move up and down the slippery slopes looking for of a glimpse of the mysterious gorillas.
Bwindi National Park has 7 habituated gorilla groups that are tracked by tourists. as follows;
The Mubare group ("M" group) opened for tourism in 1993
The Habinyanja group ("H" group) opened for tourism in 1998
The Rushegura group ("R" group) opened for tourism in 2002
The Nkuringo group ("N" group) opened for tourism in 2004
The Bitukura group ("B" group) opened for tourism in 2008
The Nshongi group ("S" group) opened for tourism in 2009
Mishaya Group is an off shoot from Nshongi Group (2010)
Kyaguriro Group is dedicated for Research opened (1999)
When to visit:
There are two dry seasons in Uganda: January-February and May –August. The wettest months are March-April and September-November. The direst months are June and July. During the rains, the park is often covered in mist and the air always damp. Temperatures can reach freezing points at altitudes above 3000 m and hailstorms are always common. However the parks can be accessed and visited at any time of the year for the hilarious gorilla tracking and other activities including Hiking and nature walks.
Activities in the parks are:
Gorilla trekking
Bird watching
Villages walks
Monkey viewing.
Volcano climbing
Guided forest nature walks
Bicycle Riding
Golden monkey tracking (characterized by a bright Orange-golden body, cheeks and tail, different from its black limbs crown and tail end.)
Tweet