Uganda offer you rolling emerald hills, snow-capped mountains, misty, impenetrable forests and deep, crystal clear lakes. Even though Uganda is a small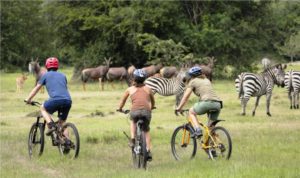 country, it offers all of this and a lot more: white water rafting, gorilla tracking, game viewing, sport fishing and some of the best trekking and safaris in Africa. Most importantly, the friendly and relaxed locals all speak excellent English.
What more could you ask for from an exotic holiday destination?
Uganda is one of the most beautiful countries in Africa. A land that's painted in 1,001 shades of green with fantastic natural scenery. Located in eastern Africa, crossed by the equator, this landlocked country borders South Sudan in the North, Democratic Republic of Congo in the west, Rwanda and Tanzania in the South, and Kenya in the East.
Seasonal temperatures range from 20º to 28ºC. Uganda has equatorial climate, there are two seasons, a rainy season and dry season. The rainy season is from March to June, December-February and June-July are the driest times.
It is moving to see how people who suffered so much have worked hard to overcome the nightmares of the past, regain their lives, and fight for a normal, settled life. Considering the lived-through horrors, most Ugandans are very satisfied with the development of the last ten years and they cherish the prevailing peace.
The beauty, wildlife, diversity, and friendly people led Winston Churchill to refer to Uganda as 'The Pearl of Africa'. To visit Uganda is the opportunity of a lifetime.
Places to Visit
Religious monuments include the Namirembe Cathedral, Bahai Temple, Kibuli Mosque, and the Namugongo Catholic Martyrs Shrine.
The National Museum of Uganda, Kampala City, Jinja Town where the source of River Nile and Bujagali Falls are found, Entebbe is the only town in Uganda with an international airport, also on the shores of Lake Victoria and has a beautiful botanical garden, and fabulous beaches, Kasubi Tombs the largest royal hut in Africa. Around the country, there are other sites that mark important historical
Uganda also has several Game Reserves and National Parks, such as the Bwindi National Park, Murchison Falls National Park, Queen Elizabeth National Park, Kibale Forest National Parks, Lake Mburo National Park, Mgahinga Gorilla National Park, Kidepo Valley National Park, Mt. Elgon National Park, Rwenzori Mountains National Park, Semuliki National Park, Katonga Wildlife Reserve
A wonderful aspect of Uganda is the approach to community tourism. Wherever you go, there is a community campsite and they are often conveniently located right outside park gates. All the benefits at a fraction of the cost! In addition, you also know that you are giving something directly back to the community. It is a great opportunity to meet locals, share a beer and have a chat.
When it comes to practical matters like food and drink, there are many options. Kampala is well equipped and the many roadside markets sell the most wonderful range of fruit and vegetables. They also sell interesting things like meat, or chicken, on a stick and plenty of Nile perch.
There is also plenty of beer available, in Kampala you can stick to international brands if that is what you prefer.
In all aspects, Uganda offers an experience that is as varied and exciting as you want it to be. What you see and experience are only limited by your imagination and sense of adventure so don't let anything put you off discovering a place that truly is The Pearl of Africa.