Daily Mail — What do you call three Doric columns on a foggy day? Pillars in the mist. OK, it's not good, but jokes like this while away the hours on the journey back to Kampala airport after a trip to Uganda. The country is stuffed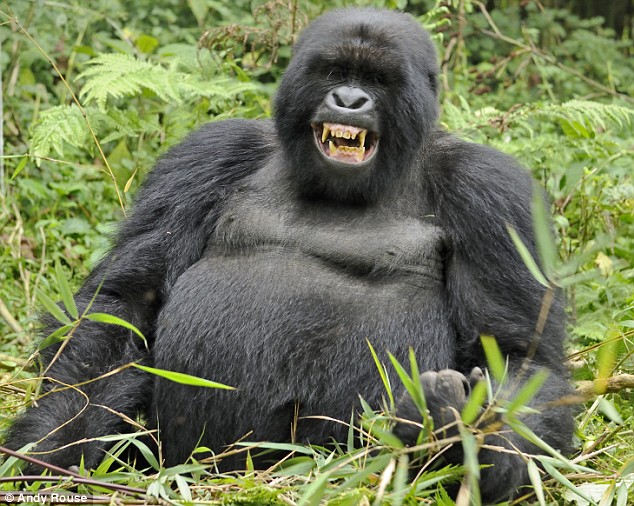 with wildlife. Not only does it have half the world's mountain gorillas, it also has chimpanzees ripping up the forest, tree-climbing lions, leopards, elephants and so many hippos in the rivers that sailing through them is like being in an enormous bowl of grey olives. Uganda may not be as advanced in tourism as its eastern neighbour, Kenya, but therein lies its charm.
The roads are bouncy and there are few five-star hotels outside the capital, Kampala. And although the locals think we're barking mad wanting to spend money hanging out with primates, the people are some of the nicest I have ever met. Yes, I know. At this point you'll be muttering the two words that every Ugandan is expecting you to say: Idi Amin. The former dictator has cast a long shadow over the country and yet, surprisingly, he has not been in charge of it for two decades.
Also a surprise is just how green everything seems as you first approach Uganda. As you fly south over the sands of the Sahara desert and towards the Equator, you suddenly come upon a veritable oasis, with a vast rainforest on the western border. My lovely older brother died in Uganda last year and I wanted to see why he had been so enamoured of the country that he wanted to retire to a small house on the banks of Lake Victoria, the biggest lake in Africa, and the source of the Nile. Now I know why.
From the Munyonyo Hotel and Resort in Kampala, where my brother had been the general manager, my travelling companion and I headed west in a battered Land Rover with a staggering 266,000 miles on the clock and a slightly squeaky front axle. As we drove away from the capital, it began to rain. The red earth bled into ditches at the sides of the roads. Everywhere, people were sheltering under trees and big banana leaves bounced up and down under the onslaught.
What an easy life we have in the West. Men were pushing bicycles up hills with huge plastic containers of water balanced on the handlebars. Women and children carried enormous loads on their heads. Many hours later, under a lowering sky, we climbed through lush tea plantations towards what was going to be our home for two nights, the Primate Eco Lodge. Its safari tents sit on wooden platforms and nestle among the trees of the Kibale forest.
After a gorgeous dinner of stuffed tomato, fish soup and chicken with roast potatoes, it was time for bed. I slipped under my mosquito net and prepared to sleep. Some hope. It was as though an orchestra had decided to tune up on the balcony. Tree frogs screamed at each other and cicadas rubbed their legs together furiously. It only needed the fat lady singing and it would have been a Schoenberg opera.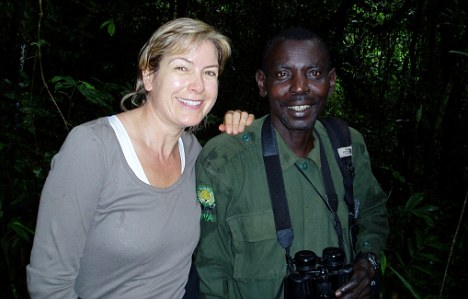 But the morning brought a blue sky and the promise of chimpanzees…At the rangers' hut, we are given a briefing. 'One of the most important things,' says the guide solemnly, 'is not to imitate the chimpanzees. You may not know what you're saying.' Our guide, Silver, leads us through the forest, telling us how the males use buttress roots, which sit above the surface of the ground, as drums to announce their presence.
And just as we're having a rest, admiring a cloud of butterflies and an enormous mushroom, we hear them. What a racket. With all their banging and shrieking, it sounds as if someone is being dismembered.
'Come on,' whispers Silver urgently. We crash through the forest, up to our ankles in mud and prickly bushes snagging at our clothes. And then . . . there they are. I see a male chimp halfway up a tree, while ahead of me is a smaller one. Half a dozen more are in the branches, stuffing berries into their mouths like little hairy humans at a children's tea party. For ten minutes, our group stand watching these chimps as they gobble their elevenses. Then, suddenly, it's like a Saturday night at a kebab shop.
The big male starts shrieking at a younger one from a different group who has tried to get in on the action. With a loud crack, he rips off a branch and throws it. The hooting and banging carries on until the younger male decides to back off. As he disappears, there's the sound of coughing. 'He's done such a lot of shouting, he's having to clear his throat,' Silver explains. 'If only he'd been to RADA, he'd have known how to warm up,' I say.
We spend a blissful hour with the chimps. They are so human-like, it's not difficult to see where we come from. Petty squabbles, secret meetings, deviousness . . . it's an average day at the office! Some of the chimps are so close to us as they go past that we could touch them. It's a magical encounter, even if they are a bit scary. They are like hoodies in fur coats.
The next morning, Gerald, our driver/guide, is waiting to take us to our next stop, the Jacana Lodge in Queen Elizabeth National Park in the Western Rift Valley. We cross the Equator and about an hour later drive up a bumpy road to the Maramagambo forest, where the lodge sits on the edge of a crater lake.
The thatched reception area is being bounced over by black-and-white colobus monkeys, and there are vervet monkeys sitting eating berries in the trees and loitering on the path to our hut with its perfect view of the lake.
We eat lunch in a treehouse-style dining area to the gentle sound of otters fishing and then go for a game drive. There are water buffalo rolling around in mud holes, warthogs running with their stiff tails up in the air like radio aerials, and herds of antelope – and other lion bait – grazing.
In the distance, the mountains are shrouded in mist. It's so stunning that it takes your breath away. A thunderstorm breaks and sends us back to the Jacana for a drink in front of the fire, and then a fish supper.
Next morning, it's another chimp trek, this time in the steeply forested Kyambura gorge with a toffee-coloured river running through it. Betty, our guide, takes us down the slippery track and through overhanging lianas and spiky plants. It's hot and steamy. Suddenly Betty stops and holds up her hand. There are chimpanzees on the opposite bank. 'We'll have to get over this log,' she says firmly, pointing to a tree that has fallen across the muddy river.
We shuffle over on our bottoms, and there they are. It's obviously the school run – mothers and babies and toddlers only. Little ones with quavering hands reach up to get sticky fruit from the trees, while toddlers almost fall through the branches. Then one of the males gets home. He's very vocal. Obviously, lunch should have been ready. We catch up with him as he bangs on a buttress root and stops to slurp water from the crook of another.
In the surrounding forest, we can hear the shriek of the colobus monkeys, sounding a warning. 'The chimps catch them and eat them like sausages,' says Betty. That kind of danger would definitely keep you alert. It's another incredible experience. And as the day is still young, there is enough time for a boat trip in the Kazinga Channel. As we head for the quayside, an enormous hippo trundles past.
The boat has barely cast off when we are watching veritable crowds of water buffalo, hippos, elephants, monitor lizards and crocodiles. Hundreds of birds line the banks and overhead rare malachite kingfishers hover.
We drive back through the park and see a lioness and two cubs sheltering in the shade of a tree as another thunderstorm breaks. I need a shower when we return to the Jacana Lodge that night. With water straight from the crater lake, it smells like snails that have been left in a bag – but it's piping hot and great for aching muscles.
It's another five-hour drive the next day through the southern side of the Queen Elizabeth Park. Waterbuck and kob graze in impossibly beautiful plains, and lions sleep in the savannah fig trees. They look like bean bags that have been lobbed over the branches, their legs hanging down, their faces squashed against the crooks of the trees.
We climb through more tea plantations to our destination, the Bwindi Lodge, with views across to the dark, forbidding Bwindi Impenetrable Forest. Our little hut has a shower and an enormous hairy spider in the bathroom with a sweet face. It is probably after my eyebrow tweezers.
Later we head to a nearby village, where we drink cold beers and contemplate our gorilla trek the next day. One couple I meet are already old hands at this – on a previous occasion they spent ten hours in pursuit of gorillas.
'Was it worth it?' I asked. 'Oh yes,' they said. 'Magical.' Most of us hire porters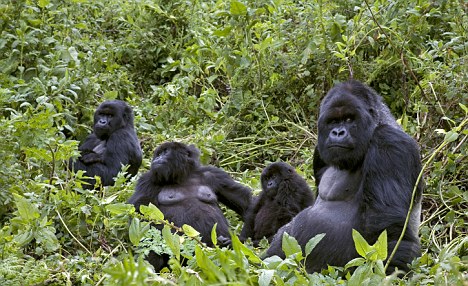 the next day to carry our small day bags and help us up and down the muddy bits on the trek. My porter, Richard, tells me he is hired about once a month for this task – the rest of the time he has to help out on a banana plantation to make ends meet.
We talk quietly as we walk in the sultry air, clouds looming on the horizon. And just as my muscles are having a fit, our group's guide, Dan, tells us the trackers have found the gorillas.
As we're creeping through the undergrowth, I see the huge shoulders of a silverback, the big male of the group. And there's a surprise in store: two groups have ceased hostilities and are hanging out together. There are more than a dozen gorillas of all shapes and sizes.
There are two silverbacks and a brace of babies, one of whom is only a few weeks old, his little pink ears sticking out like plastic handles. He is clinging to his mother's stomach as she sits on the forest floor, her enormous face turned towards us to make sure we're not getting too close.
How could anyone want to harm such gentle giants? They seem to have such sad eyes, such sad faces – you can't imagine a bunch of gorillas having a good belly laugh Talking of bellies, the stomach of one of the silverbacks is so big that it hangs well over his knees as he sits on an impossibly small branch, stuffing giant leaves into his mouth.
I'm crouching when another silverback comes up behind me. I'm in his way. He pulls up a scruffy bush and starts shaking it at me. I can't go anywhere as I'm stuck on a prickly bit of scrub. I make the sort of face that I do on air when I've asked a really stupid question (most people will have seen it), and eventually, he finds another route.
Alas, all too soon, our time is up. 'Four minutes to go,' Dan whispers. And it's as though the gorillas are wearing watches.
The lead silverback looks down from his tree, eats a final leaf and then gently gets up and puts his arms around the smooth trunk. His back ripples with muscles as he eases himself down. And then he breaks wind, and continues to break wind until he reaches the ground. As we trek out of the forest, we discuss the burning questions.How come gorillas have such big stomachs when they eat only leaves and berries?
Would they shrink like burst balloons if they took Deflatine? And if you found a group of flour makers having a secret meeting, would they be Millers in a Tryst? It was an incredible end to a fantastic trip. Uganda is beautiful. The jewel in Africa's navel. No wonder my brother loved it so much.
Tweet