Tourism has become an important sector in Uganda and a great contributor to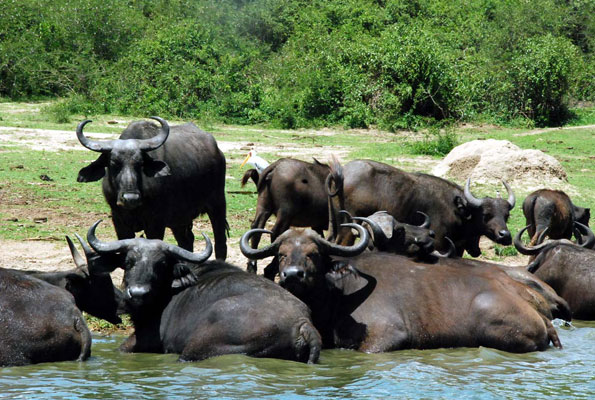 foreign exchange, employment, and investment in the recent past. There has been increased investment in tourism, particularly in accommodation and related facilities to enhance tourists' experiences in the country.
The sector has become the second foreign exchange contributor after remittances from abroad. Statistics provided by the Uganda Bureau of Statistics show that the sector fetched US$805m (about Shs2trillion) as of August yet more was to be explored.
Gifted incredibly
Uganda prides in its diverse and unique range of nature-based attractions like the United Nations Educational Scientific and Cultural Organisation (UNESCO) World Heritage sites, the Rwenzori Mountains National Park, Bwindi Impenetrable National Park, Uganda Wildlife Educational Centre, which has majority of animals enclosed in a naturalistic setting, together with fascinating indigenous culture and tradition.
Tourism is also driven by the friendly and hospitable nature of Ugandans,unique religious sites, highly unspoiled and unexplored environment, delicious organic food and drink and good climate among others.
The country has over 3,200 tourism sites although efforts are underway to classify them for better tourism promotion according to the Ministry of Tourism.
Building a backbone
Different government agencies mandated to promote tourism have in the recent years mounted rigorous promotion campaigns through the media. Road shows, local, regional and international tourism fairs, programme and activity sponsorship and public relations campaigns have also been a big feature in the recent past as the sector has grown.
Other activities include e-marketing, organising and participating in local regional and international events, creating promotional materials like brochures, magazines and DVDs, organising familiarisation tours, establishment of tourism offices in major source markets and developing a domestic tourism promotion strategy that has created awareness on tourism and increased visitor numbers in the country.
Uganda Tourism Board Executive Director, Cuthbert Baguma Balinda, says the organisation recognises tourism as a primary growth sector. Uganda is a unique tourism destination basing on accolades it has won.
The accolades include but are not limited to the recent one by Lonely Planet, an independent online magazine owned by the BBC that designated Uganda number one tourism destination 2012 and others from National Geographic.
"There has been significant growth between 2010 and 2012 with tourism grossing about around $400million (about Shs1trillion) to $805million," he said.
Balinda adds that despite the numbers, the leisure and holiday market has continued to lag behind so there needs to be more focus on it because it is the tourists on holiday who stay longer and spend more in an economy.
"There are several other things we need to focus on; regional and domestic tourism is very vital. We need to look for market in D. R. Congo, Kenya, Tanzania, Rwanda, Burundi and Sudan. Ugandans need to start appreciating their places. It should start with senior citizens and civil servants to sustain the industry," he adds.
Baguma concludes that the number of business conferences and the accolades the country has won and hosted show how much better things can get, attributing Uganda's rise in the world's tourism pecking order to a number of things.
Vian Lyazi, the ministry publicist, says Kenya and Tanzania are performing better than Uganda because of historical factors relating to insecurity in the past and non-strategic approaches by former governments that threatened tourists.
"Uganda is well positioned and has great beauty that makes it the Pearl of Africa. The extinctive features need to be harnessed to promote Uganda," he advises.
Lyazi believes domestic tourism is steadily growing though there is need to for more promotion because majority visitors who come to Uganda come to visit friends, conferences among other reasons than coming to see Uganda's beauty.
The ministry during the tourism sector review recently disclosed that park arrivals in Uganda's tourist attractions have increased from 190,000 in 2010 to 208,000 in 2011, representing a 9.4 per cent increase.
It disclosed that visitors to the Uganda Wildlife Education Centre increased from 250,747 in 2010 to 263,000 in 2011, representing a five per cent growth.
According to the report, foreign exchange from tourism increased from $662million in 2010 to $805 million in 2012, representing a 21 per cent growth while tourism contribution to GDP grew from 7.6 per cent in 2010 to 7.6 per cent in 2011.
Support from above
In February this year, President Yoweri Museveni threw his weight behind the tourism sector when he launched Presidential initiative on sustainable tourism (PRESTO) to provide additional contribution to tourism promotion, marketing and development through special initiatives.
Although some members of the tourism sector perceived it wrongly thinking it is a duplication of agencies, the organisation's coordinator, Naava Nabagesera, says the organisation was set up to beef efforts of Uganda Tourism Board.
"When the government decides to highlight a sector for special attention, it shows how important it is and that is what President Museveni has done, first by introducing a full independent ministry for tourism," she stresses.
She adds: "When we talk of Uganda being the best place on earth we are not talking politics. It is about our lovely motherland. Patriotism and tourism move hand in hand and it has to start from the grassroots. For instance, why do Ugandan schools teach children about Napoleon or Hitler without saying anything about our gorillas? That is cheating Ugandans of their pride. For Africa to grow, we need to get rid of some colonial settings or we shall always stay colonised."
Source: Daily Monitor
Tweet