Jinja is well known as the adventure capital of East Africa with various adrenaline packed activities to indulge in including rafting, kayaking and bungee jumping."We are setting off at exactly 6.30am from Javas the Lugogo branch'', Denis Ntege the owner of Raft Uganda texted me at about 11.30pm on a Saturday night. I was just about to text him back saying I wouldn't be able to make it as I felt exhausted and de-motivated, yet I had postponed this event 6 times before and was starting to come across as an un-serious human being.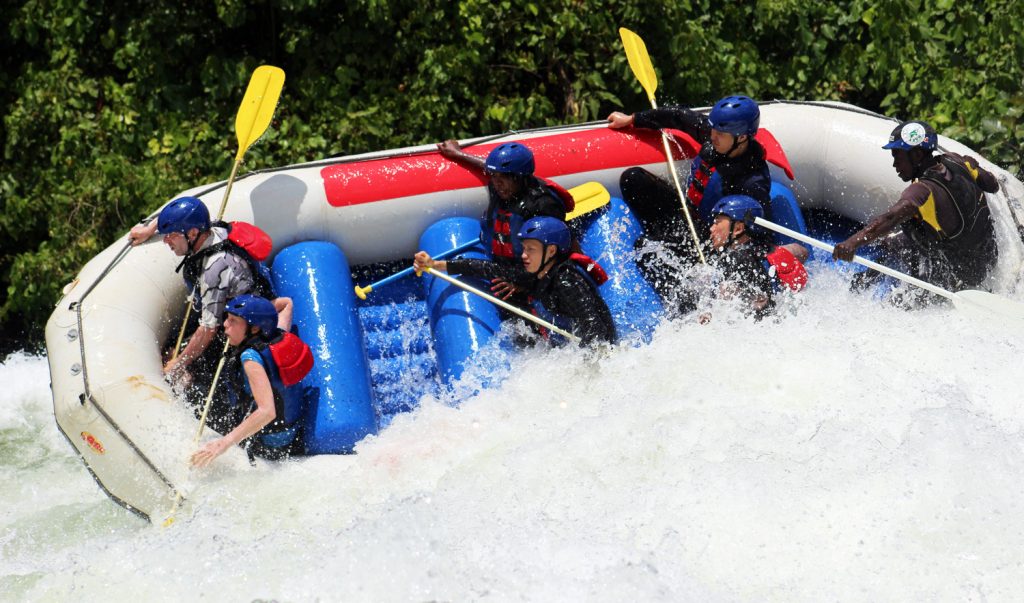 "No problem, I will be there" I responded to his text as I lay on my bed regretting why I had signed up for this crazy adventure. I had seen people raft and kayak before in Jinja, even encouraged and booked in many of my clients to venture into this exciting sport; yet here I was reluctant to give it a try. '' You can't just hike mountains all the time, you need to venture into other activities as well.'' I said over and over to myself till I eventually fell asleep.
I was so sleepy by the time I met up with Denis and the driver of the mini-van that was meant to transport me and a few other clients to Jinja that morning. "Let me know how it goes, I am off to the gym but you will be well taken care of'' he said as he shut the front door of the van after I was comfortably seated next to the driver.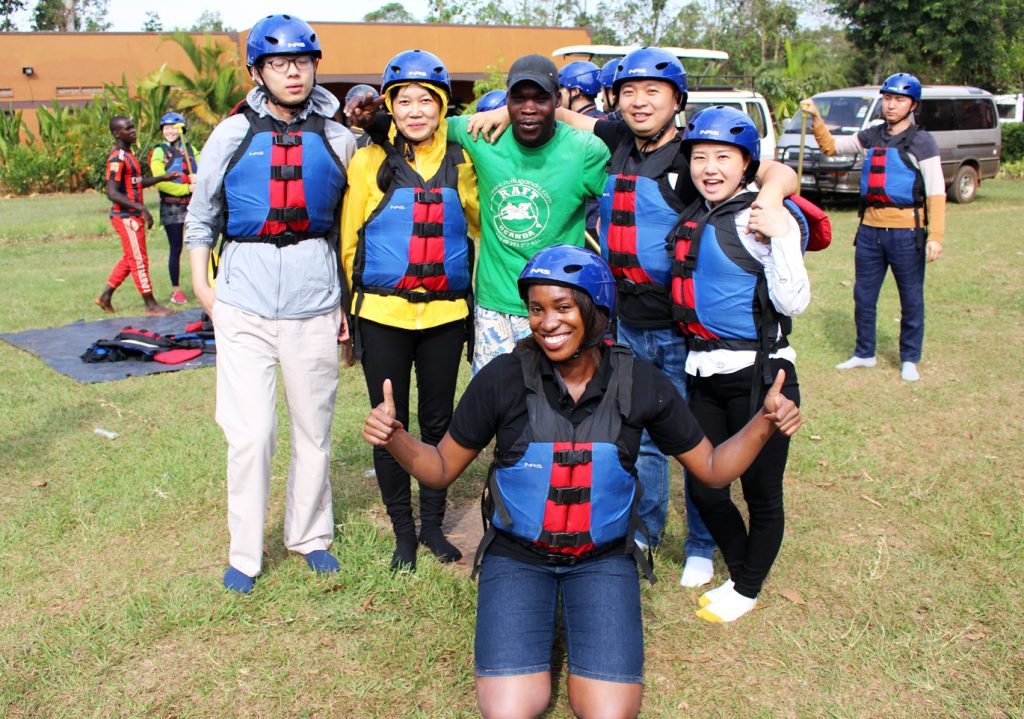 After picking up 5 other (Chinese) clients from their hotel that chose to include the rafting adventure in their Ugandan safari, we started to drive towards Jinja. I realized I had slept throughout the entire journey when the driver tapped me on the shoulder and said "we have reached nyabbo!'' I started to panic as I stepped out of the van "I hope I don't drown" I quietly murmured to myself as I walked towards the Raft Uganda dining area at their Jinja based offices.
We were served a hearty breakfast but I was too nervous to eat, opting for just a strong cup of coffee. Godfrey, one of the Raft Uganda guides walked in, to take us through a safety briefing. "Ladies, if any of you are pregnant please let us know right away'' he said as he looked at me and one other Chinese lady that was seated next to me. "We are not pregnant!" we responded harmoniously, a response that sent all the men in the room bursting into laughter.
"Let me help you fasten your life jacket!" Jackson one the river guides said as he helped me fit into one of the jackets. I had booked a full day adventure package, but opted to start with the safety boat as it offers a milder experience. I then proceed to the wilder rafting experience in the afternoon, having gained experience and confidence in the morning. I would strongly advise extremely nervous first timers to follow suit.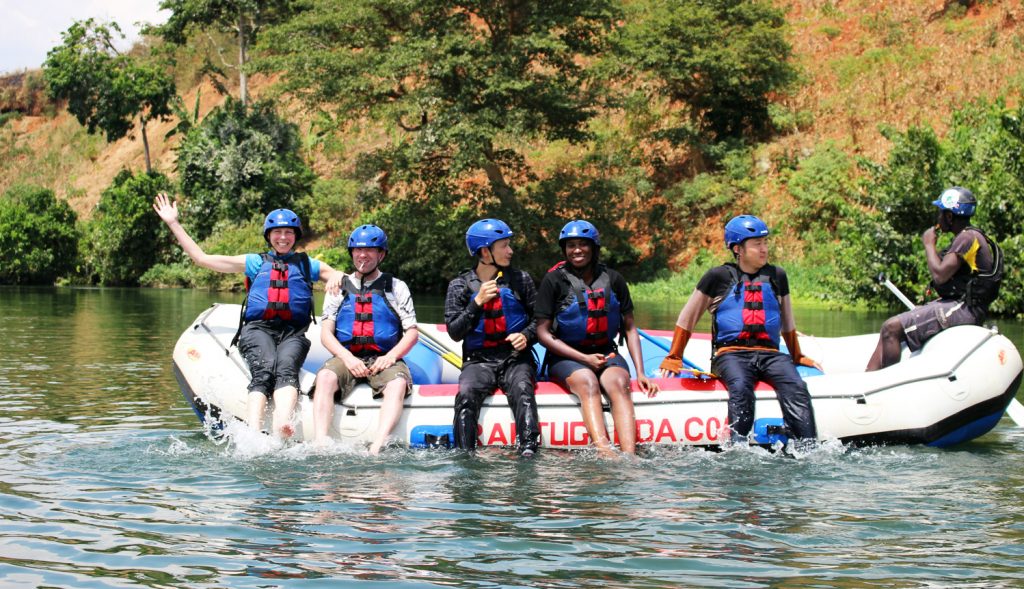 As soon as we had donned our life jackets, helmets and got hold of our paddles we posed for the camera in our respective teams and sloped down towards the rafting start point. There were about 5 inflatable rafting boats in the water, my team and I comfortably sat on the safety boat as we watched the braver ones sit in the other boats. Ten river guides got on to small kayak boats and joined us in the water.
It was a beautiful morning; the sun shone brilliantly causing the water in the river to glitter invitingly. The fresh air filled my lungs making me feel refreshed and exhilarated. The breath-taking scenery captivated everyone. "The water is very calm here, you are free to jump into the river for a quick swim before we proceed to the rapids.'' Juma, our guide said to us but we were all reluctant. Everyone in my team was a bit scared despite the fact that we had our life jackets on and plenty of river guides watching over us.
As soon as we got to overtime; the first rapid of the day our tour guide advised us to get off from the nearby rocks and walk slightly ahead past the falls. He felt the rapid was a bit too severe for my team because the water levels were a bit higher than usual that day. As we sat watching the others dramatically drop into the rapid and laugh out excitedly, I started to regret why I didn't join them in the first place. We got back on to our safety boat and paddled through the water avoiding the severe rapids, some of which were really strong. We held on tightly on to the ropes of the boat to avoid flipping over and into the water.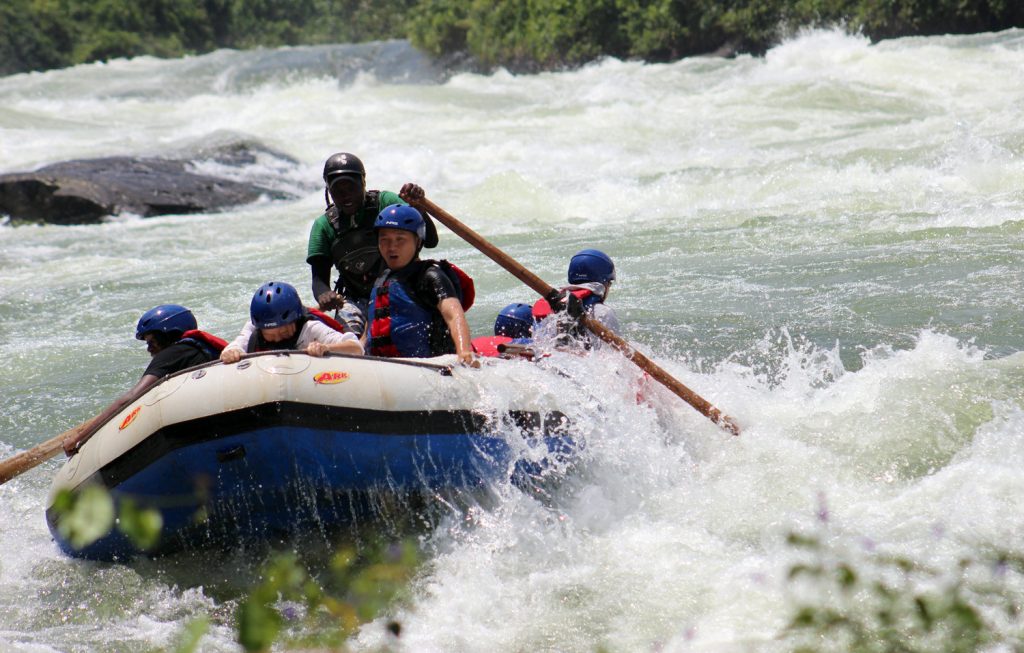 After two hours of enjoying the exciting ride on the water, our guide stopped the boat and asked us to jump into the water and swim. I was eager for a swim yet extremely nervous until I felt a strong push on my back and I fell into the water screaming. One of the ladies on the boat had pushed me in, and I am glad she did, because the water felt so warm and nice. I could tell it was very deep as my legs were floating mid-way in the water, I swum towards Jackson's kayak and before long everyone from all the other rafting boats was inside the water swimming and having a good time; making this one of the most memorable water experiences I have ever had.
My team watched as the other teams attempted the wilder rapids and were thrown into the water, it looked scary but exciting at the same time. I was starting to get a bit bored and restless as I impatiently waited for the afternoon session to start so I could experience the thrill. At around 1pm we were served a variety of food, with delicious sandwiches, bananas and pineapples. There was plenty of drinking water to keep us hydrated. I watched as the first shift of rafters who had opted for a half day package get off the raft boats and walk back towards the dining area content with the day.
I was comfortably seated with my new team. We all introduced ourselves and cracked jokes as we finished our lunch. "Are we ready?'' Godfrey, the river guide who had earlier briefed us, asked. "Yes, let's do this!!" we all responded excitedly as we listened to the instructions he gave us. As soon as we got close to one of the most dramatic rapids named "hair of the dog'', which was close to the rafting finish point, my breathing rate greatly accelerated. I knew our raft boat was going to flip over and into the water, I felt intoxicated by the power of the water current, I tried to hold on to the ropes as tightly as I could but there was no escape. I have a feeling our guide often tried to tip the boat into the water on purposes as well.
It was just about 7 seconds underwater but it felt like forever. I could feel the depth of the water which is between 8-11 meters deep, some water had seeped in through my nose and mouth, all I saw was darkness, my heart must have slightly stopped due to shock, my mind was blank, I pronounced myself dead at that particular moment.
"Good Job, Lorna!" is all I heard as I felt a hand pull me up onto the boat. "That was so much fun!'' Wang Jie the Chinese guy that was seated across me on the raft boat said as he helped to place my helmet back on my head. Everyone on the boat was laughing and excited. I sat there like a zombie with a fake smile on my lips, deep inside I was just glad to be alive.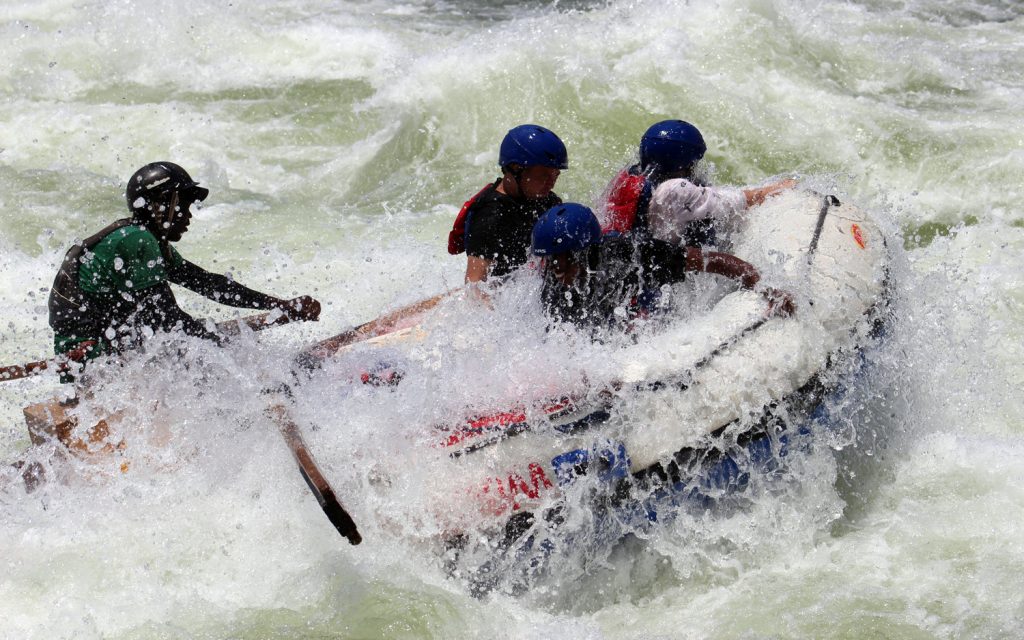 "We are heading for kulu shaker!'' said Godfrey, who quickly interrupted my thoughts. "Get ready!" he said as we paddled a bit more to the next rapid, which was either not that strong or we became stronger and resisted the force.
"Good job team!'' Godfrey said to us as we headed for some mild waters and jumped in for a swim. The sun was out and my confidence was slowly building up as I swum around. I Jumped in and out of the water several times to get accustomed to the fact that my feet were dangling mid-way and that no crocodiles or hippos would snatch me from underneath – there are no crocodiles or hippos on the river Nile.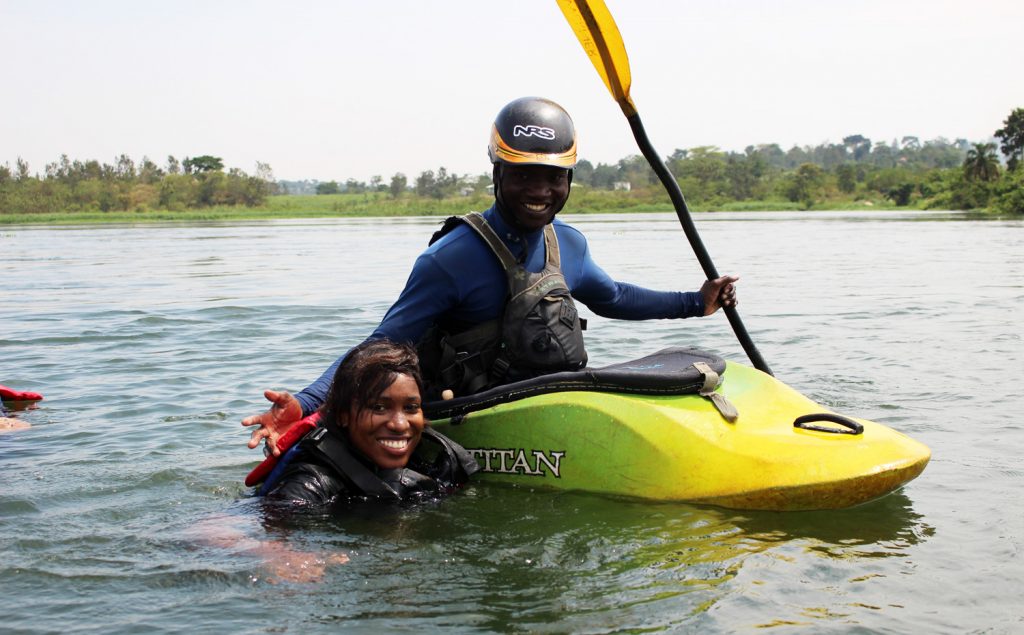 After swimming and relaxing for about 20 minutes we got back onto the raft and went through a few other flips in the water. The rapids of the River Nile have interesting names; overtime, Bubugo, Itanda Falls, Vengeance, Hair Of The Dog, Kulu Shaker (cool shaker) and Nile Special. "Nile special" prompted me to pull down Wang Jie's trousers as the current was so strong tilting the raft boat from one side to the other. I was trying to avoid a fall into the water and decided to hold on to him, I held on so tight to his trousers that I managed to pull them down!! Lucky for me, he was understanding but I offered a crate of "Nile special" beer – one of the finest beer brands in the country, as an apology as soon as we got back to Kampala.
After an hour and a half of going in and out of the water we all felt very exhausted and decided to have a final swim then get out of the water. This was then a good time opportunity for us to try the kayaks. As soon as we got back on dry land, we were served delicious muchomo– roast beef pieces, chapatti and Irish potatoes, all accompanied by beers and sodas to quench our thirst.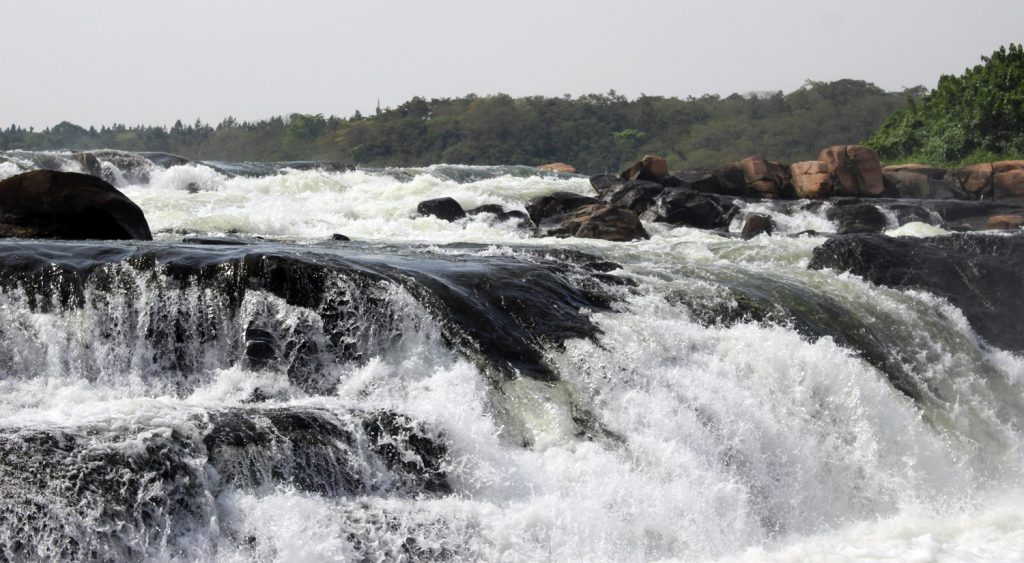 I have nothing but praise for the amazing team at Raft Uganda; Denis Ntege the Director, the company driver and the river guides are very professional, patient and trustworthy. They take the safety of all their customers seriously and ensure one attains the confidence needed to tackle the big rapids. I am happy that this fabulous team helped me unlock a whole new experience in my life.
The following is essential for your rafting adventure in Uganda
Sun screen to avoid severe burns from the sun
A shirt (long or short sleeved)
A pair of shorts or long trousers
A water proof camera, if you want your own pictures of the experience ( though the guides are constantly taking amazing pictures of everyone rafting)
It is important to notify the guides of any allergies or illnesses you suffer from before you get into the water. This will make it easier for them to keep a close eye on you, as safety is paramount to them.
Women who are heavily pregnant are not advised to venture into rafting. However, women with early pregnancies between 3-5 months could venture into mild rafting. It is important to notify the river guides about this.
It is important to leave all your jewellery especially wedding/engagement rings, valuable necklaces, earrings in the lockers that will be provided for you at the offices.
Money, phones, shoes, sandals and all other valuables should be safely kept in the locker rooms. Ensure you safely lock your belongings and hand over the key to the guide responsible.
Glasses should only be worn in the water by those who have extreme sight challenges; otherwise it's better if they are left in the locker rooms.
For more detailed information visit the website at www.raftuganda.com
Tweet