Just as soon as I was done with wearing my boots and ready to head out to the Wagagai Peak (the summit of Mt.Elgon), which stands at 4,321m; it dawned on me that this was going to be my 8th summit point in a year. I quickly grabbed a piece of coal that was lying down on the grass just beneath a piece of wood and proudly wrote my name and hiking achievements in bold letters. However, after carefully counting through later in the night I realized I had written down 7 instead of 8 summit points, nevertheless a great achievement especially for an African woman.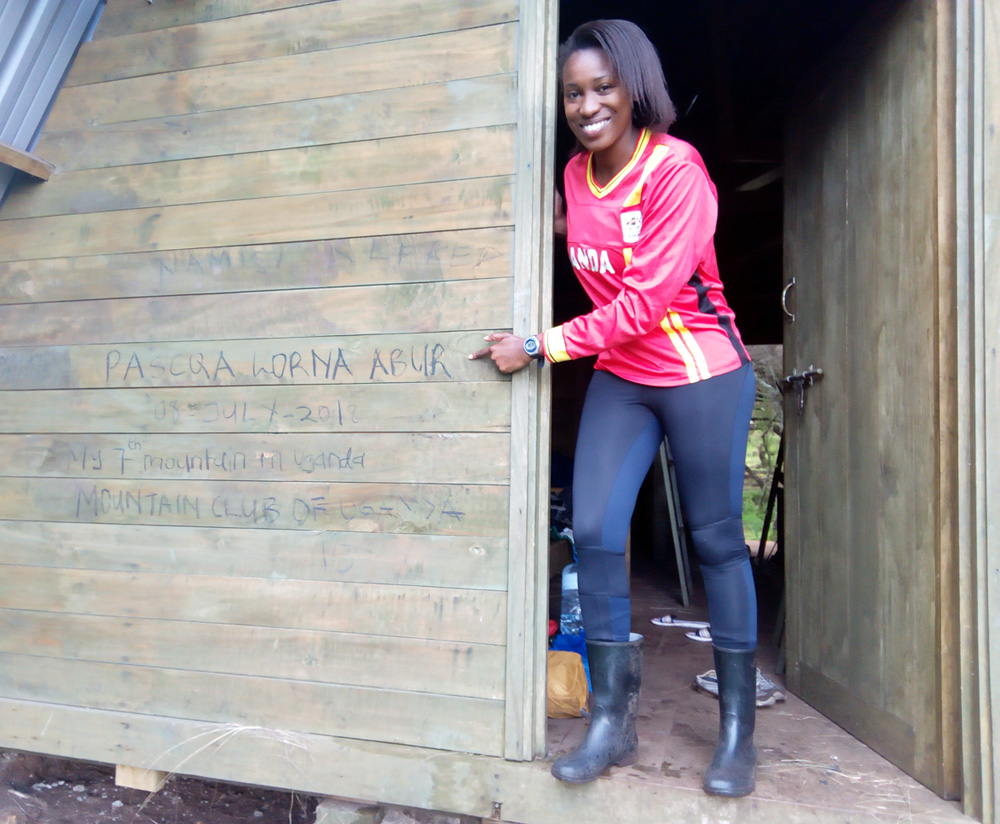 My first attempt at mountain climbing was in 2010 at Mount Oret in Kalongo, a district in northern Uganda. I worked for an Italian NGO which had offices located at the base of the mountain, and I had spectacular views of Mount Oret every time I looked out of the window. The breathtaking scenery often acted as a stress reliever whenever work was extremely busy. In the two years of my service in this location I managed to hike up and down the mountain at least 10 times. I got complacent at some point and longed for a greater challenge, though I didn't pursue anything right away.
My second attempt was in May 2017, not a mountain but a hill named Patiko-Sir Samuel Baker's fort in Gulu. This was quite a long and exhausting trek with a group, made under the scorching sun; it left me wondering why I even attempted it in the first place.  One of the ladies in the group, whom I had shared my mountain hiking interest with commented (in a somewhat sarcastic tone) , ''If you are complaining about this hill what will you say when you get to Mount Rwenzori?'  I immediately knew I had to work on my fitness or I would never be able to venture into serious mountain hiking.
In July 2017 I joined a hiking team going up Mount Rwenzori; the plan was to summit 2 peaks in one trip: Portal peak, standing at 4,391m and Margherita which peaks at 5,109m. The entire hike had plenty of highs but even more lows than I had expected. The team I decided to hike with were not necessarily the best company for a first timer like me. I failed to get along with most of the members; the peaks were quite high as I had never been at such high altitudes before. I was a bit slow and needed help from the guides every now and then, which tended to annoy some of the seasoned team members. Regardless of the lows, I successfully managed to summit both the Portal and Margherita peaks of the Rwenzoris in 9 days. That was a life changing experience.
In October 2017, after joining a different club of hikers – the Mountain Club of Uganda, I was excited to meet friendlier, more experienced and helpful group of hikers. The secretary of the committee at the time mentioned the Virunga Mountains to me, a chain of volcanic mountains spread out through Uganda, Rwanda and Congo.  Myself and a team of 4 other hikers to tackle the3,474 m high Mount Gahinga, which is the smallest of the 3 Virunga Mountains in Uganda. I was intrigued by both the beauty of the caldera swamp at the summit point and heartened my ability to conquer this mountain with minimal difficulties.
In November 2017, I had successfully gathered a team of about 15 hikers from the Mountain Club to attempt Mount Sabinyo, another of the Virunga Mountains with 3 peaks, the highest standing at an altitude of 3,669m. My appetite for hiking the mountains was growing stronger with each hike; it was so great that even stomach surgery I had undergone a month prior was not going to deter me!  The hike was quite challenging for most of us but also rewarding in many ways.  The excitement of being in 3 countries (Uganda, Rwanda and Congo) at the same time really was worth the effort.
In January 2018, I was thrilled by the opportunity of organizing and leading a hike up then three peaks of Mount Napak (peaking at 2,530m), Mount Kadam (3,063m) and Mount Moroto (3,082m),in the north eastern part of Uganda. The  highlight of this trip was the hikers from the mountain clubs of south Africa, Malawi, Kenya, Uganda and Zimbabwe  coming together as one to hike as a team. Unfortunately for me, I fell ill with a fever as soon as we summited Mount Napak, leaving me with no choice but to remain in the camp and await their return.
In March 2018, I travelled to the northern part of the country to hike Mount Moroto with three friends; it turned out to be quite scenic and relaxing. Meeting and greeting the local Tepeth tribe at the base of the mountain, the spectacular surrounding views and hiking with at an easy relaxing pace rendered this mountain one of my favorite mountain hikes so far.
In May 2018, I travelled back to Kisoro with a team of 5 hikers to try and attempt the 4,127m Mount Muhavura, which would be my  third of the Virunga Mountains. This proved to be a very tough hike but doable due to the fact that I had gathered enough hiking skills and experience by this time. Summiting Mount Muhavura was satisfying in so many ways; I know a good number of people have failed to conquer this particular mountain.
In July 2018, three of us from the mountain club of Uganda decided to summit Mount Elgon's Wagagai peak (the world's largest caldera) which we accomplished after trekking for 75.5km in 4 days. Beautiful views coupled by extremely cold conditions was the order of the day during the entire hike, hence the saying the higher you go the cooler it becomes.
I am proud to be a Ugandan female hiker, am even more proud of a few other female hikers I have met in this country. Hiking is quite a demanding activity that regularly puts you out of your comfort zone, some of the discomforts involved can be quite inconveniencing, especially for women. Going for days without having a shower, cold wet socks that can be a challenge to keep dry, having stomach upsets, altitude sickness effects, excessive stress and fatigue, plus having to deal with various personalities in the team and so much more, it is far from plain sailing on these mammoth peaks but worth it, for the sense of immense personal and shared achievement in conquering these mighty peaks and of course experiencing the jaw dropping scenery along the way.
Tweet