Uganda is the best birding destination in the world located at the centre of the african continent. No other area in Africa can match Uganda's Amazing diversity of habitats and this richness is reflected in the ever-burgeoning bird list of over 1000species. Amongst these are many special birds such as Shoebill and the numerous spectacular endemics of the Albertine rift Valley that are difficult or impossible to find elsewhere.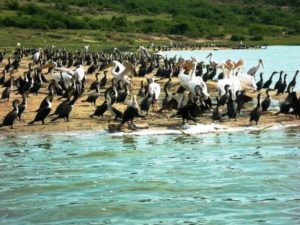 The huge bird list is so remarkable given the small size of the country of over 235,000km2; it is approximately the size of Great Britain. Making it arguably, the richest Africa birding destination.
Uganda has several excellent game reserves, including Murchison Falls National Park, Lake Mburu National Park, Queen Elizabeth National Park, Kidepo Valley National Park and Semliki National Park, which offer a good variety of more-widespread African bird species, as well as a good variety of large mammals.
Uganda's main attractions are in its forests and swamps, where many species with restricted range can be found.
Such area is the Albertine Rift, an area of lakes, mountains and forests, which stretches from northern Uganda along its borders with Rwanda and the Democratic Republic of Congo. Several species endemic to this area are found in Bwindi Impenetrable Forest, Semilki National Park, Rwenzori Mountains and Mgahinga. These include Green Broadbill, Grauer's, Grauer's Swamp and Neumann's Warblers, Shelley's and Dusky Crimsonwings, Yellow-eyed Black Flycatcher, Strange Weaver, Rwenzori Double-collared, Regal, Purple-breasted and Blue-throated Sunbirds, Rwenzori Turaco, Handsome Francolin, Stripe-breasted Tit and several others.
In the papyrus swamps around Lake Victoria and other lakes, the enigmatic Shoebill can be found, as well as specialities including Papyrus Yellow and White-winged Warblers, Carruther's Cisticola, Papyrus Gonolek, Swamp Flycatcher and Orange Weaver.
There are also several highland and lowland forests spread across the country, which offer species which are generally West African. Great Blue and Black-billed Turacos, African Grey Parrot, Green-breasted Pitta, several Woodpeckers, Barbets and Greenbuls, and scarcities such as Weyn's Weaver, Nahan's and Forest Francolins all occur.
Even if you are only passing through Uganda, a good range of species can be seen within a few hours of Kampala, in Entebbe Botanical Gardens, Mabamba Swamp and Mabira Forest, including several of the sought-after species above. Add to this the fact that there is a very active community of local birding guides, and the tourist board actively encourages birding tourism, and this is a must-visit locality.
Uganda's weather lets you watch birds anytime in the year..
Tweet