"Once a year, go someplace you've never been before." – Dalai Lama
LEMALA WILDWATERS LODGE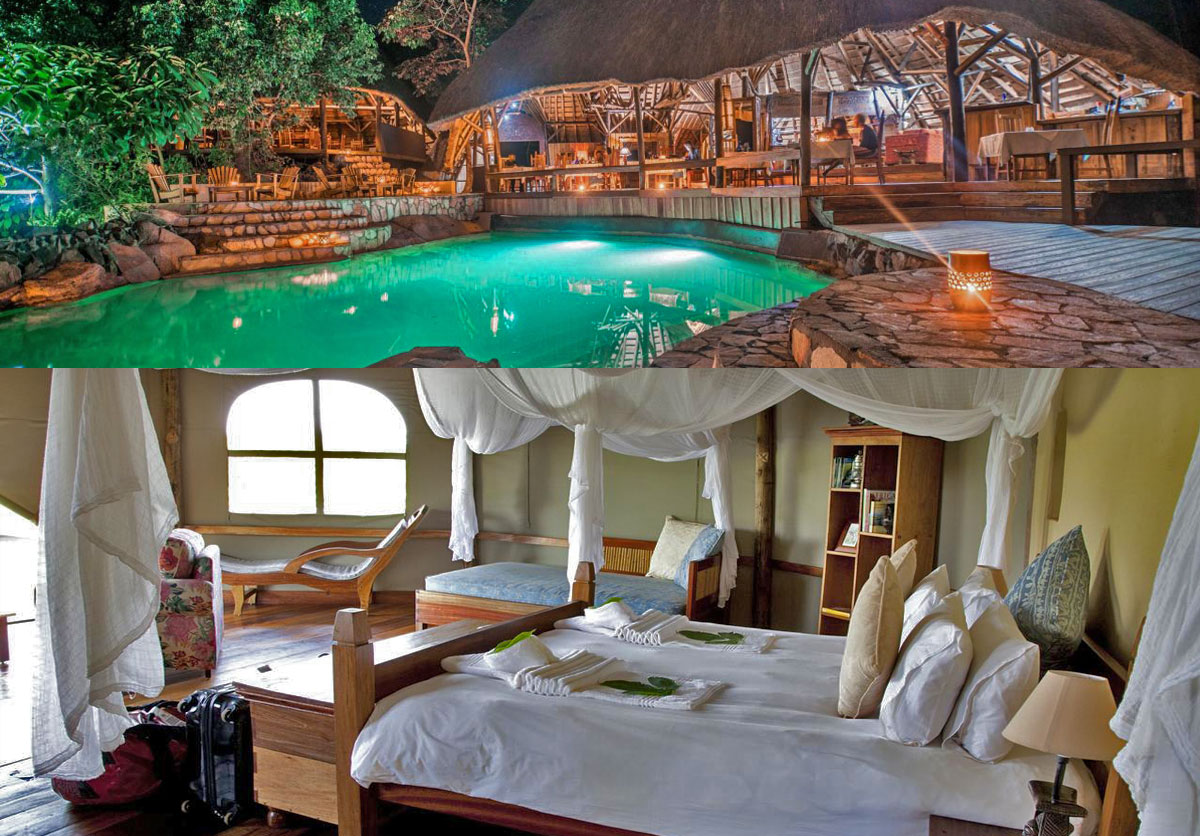 Located in Eastern Uganda along River Nile, Kangulumira, Kayunga district. WildWaters Lodge is nestled in a luxuriant rainforest on an island, mid-stream in the mighty River Nile. Thick riverine forest naturally covers the island and each of the ten timber-floor rooms is nestled amidst the forest with private views over the Nile and its rapids. The expansive, canvas walled, traditionally thatched rooms each boast private decks with elegant free-standing baths and wash basins carved from the local pink granite.
Relax in comfort on this island paradise listening to the thunder of the Nile rapids, and the calls of the many species of bird who call the island home. Elevated wooden walkways gracefully link the rooms to the restaurant and bar area and offer an unforgettable walk through the heart of the forest.​
This unique lodge features a natural pool and activities such as whitewater rafting and bungee jumping are offered.
WildWaters Lodge rates range from US $255 per night and up for full board, Tented Camp BNB US$95 and up
For bookings call: +256 (0)754 237500, +256 392 776669
CHOBE SAFARI LODGE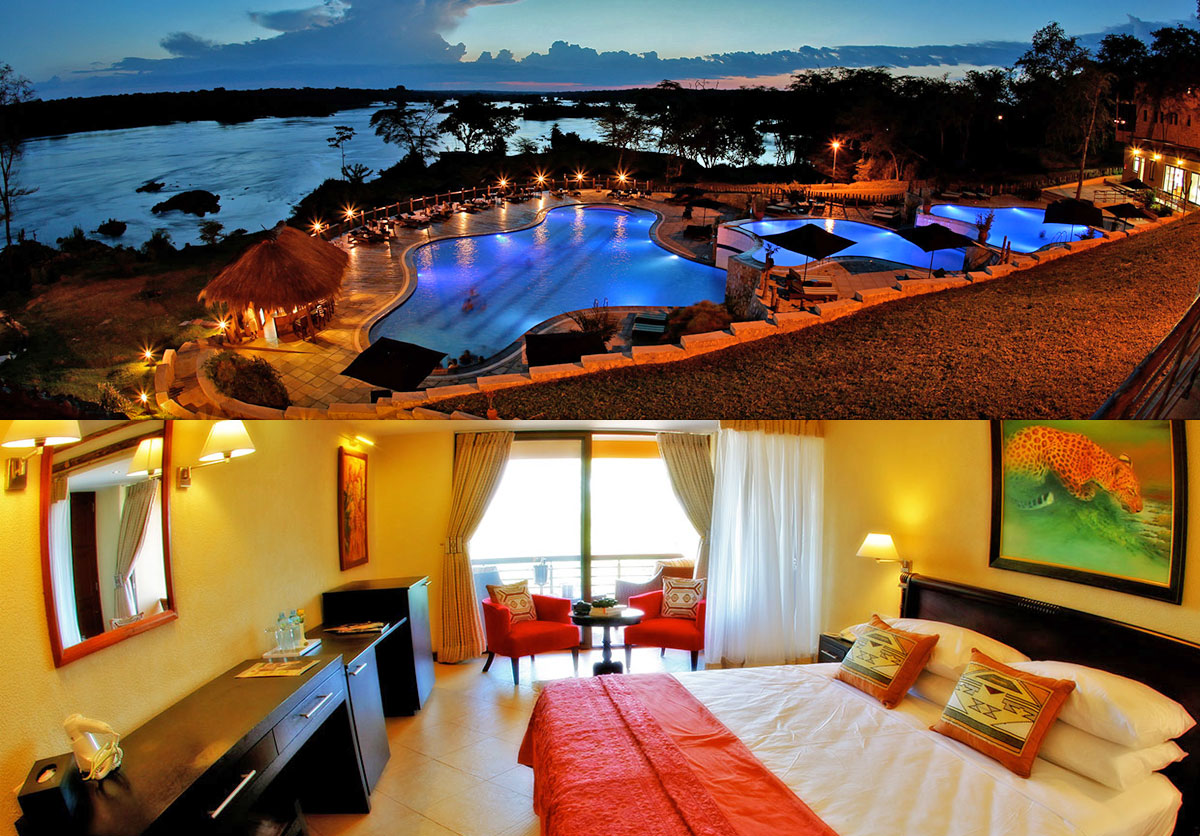 Located in the Murchison Falls National Park, this Five Star lodge is undoubtedly the gem in Uganda's crown of tourism destinations. The breathtaking panoramic views, coupled with the sounds of the River Nile's magnificent rapids, sets the scene for an adventure that will impress even the most discerning of visitors.
The Lodge offers a unique opportunity to sample the wildlife, birds, flora and fauna all in an area of the park that has yet to be discovered.
This area of the Park is ideal for fishing. The wildlife biodiversity in Murchison Falls National Park contains the most astonishing number of species, 76 types of mammals and 451 different birds and the lodge offers a safari drive. More services that are offered at Chobe Safari Lodge include a boat ride to the bottom of Murchison Falls, Nature Walk to the top of Murchison falls, bush breakfast etc.
Chobe Safari Lodge rates range from US $199 per night and up.
For bookings call: +256 372 259300, +256 312 260260
KYANINGA LODGE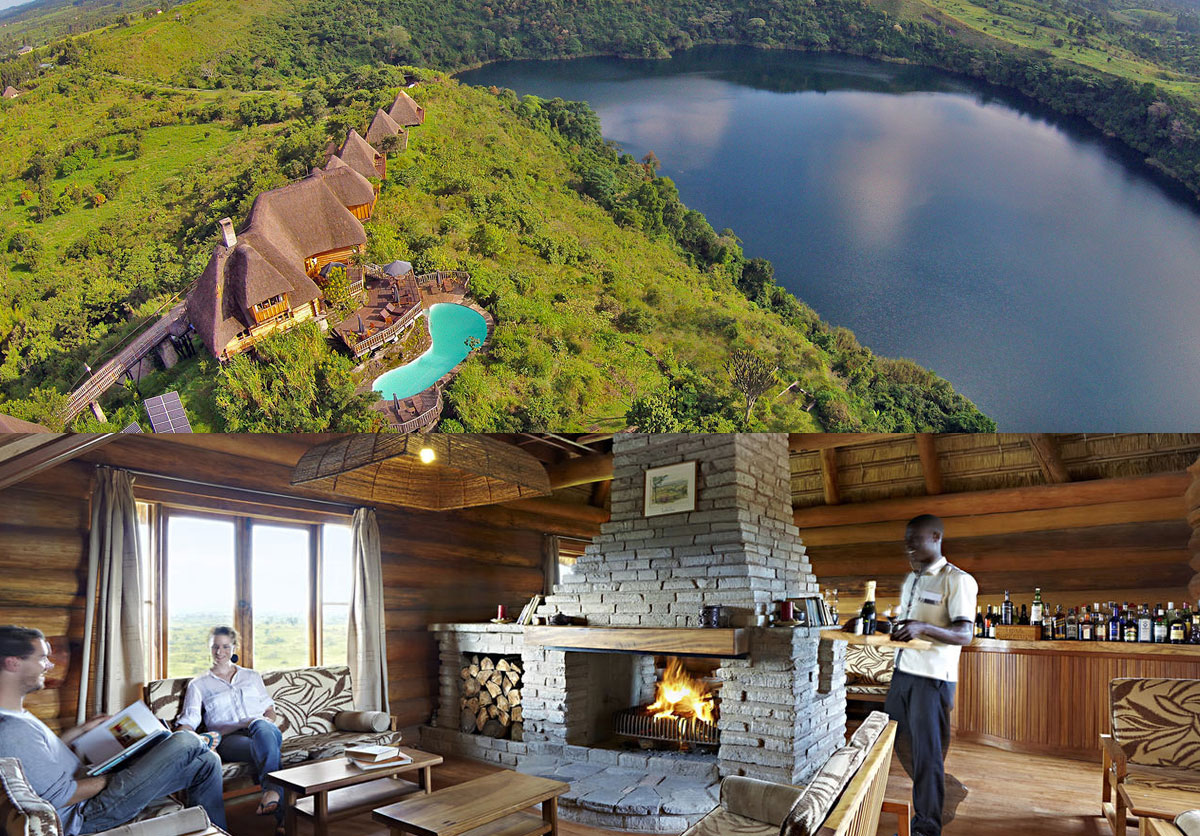 Located in Fort Portal, western Uganda, Kyaninga Lodge is set against the stunning backdrop of Lake Kyaninga and the Rwenzori Mountains beyond. The cottages are made from hand carved logs, superb dining, and a wealth of adventure.
Kyaninga Lodge is nestled on the edge of an extinct volcanic crater lake at the foot of the Rwenzori Mountains where The Great Rift Valley meets the Mighty Congo Basin.
You can experience the beauty and romance of this unexplored region, while staying in the height of luxury and elegance inclusive of the following exciting activities. Gorilla tracking in the depths of the misty and mysterious mountain rainforest of Bwindi, touring the Rwenzori Mountains, Queen Elizabeth National Park, Kibale Forest National Park.
Kyaninga Lodge rates range from US $ per night and up.
For bookings call: +256 772 999750
MWEYA SAFARI LODGE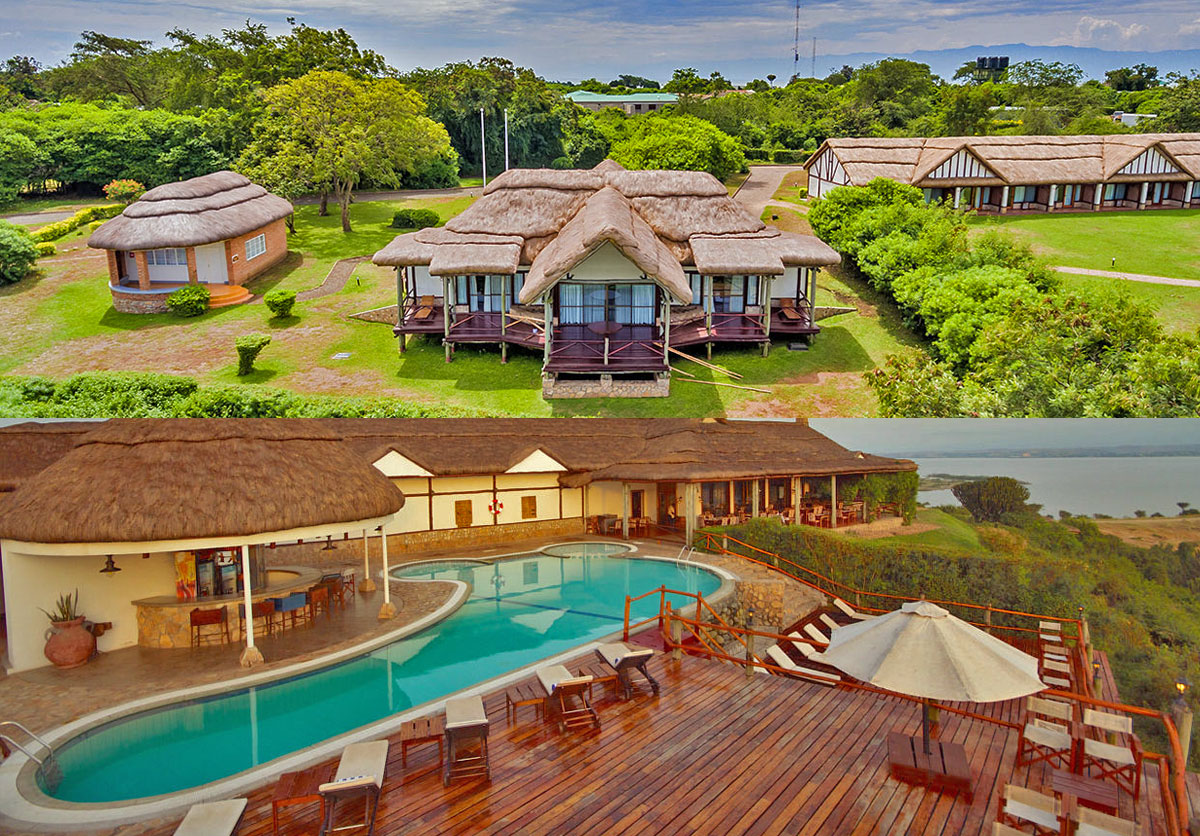 Mweya Safari Lodge is located in the south western part of Uganda, Kasese district in the heart of the Queen Elizabeth National Park. The Lode offers visitors an unforgettable experience and it is surrounded by the Magical Rwenzori Mountains.
To the east, lies the Great Rift Valley hills, separated from the Rwenzori Mountains by the meandering Kazinga Channel. Here the water flows endlessly into two giant lakes, George and Lake Edward.
The Lodge offers a range of activities and attractions: take a game drive and discover a vast array of wild game; experience a launch trip on the Kazinga Channel using one of our luxury boats; or watch some of the 619 different species of birds, chimpanzee tracking in Kyambura gorge.
Each room at Mweya Safari Lodge has a breathtaking view of the Kazinga channel. You can watch the forest hogs grazing the grass outside, as well as the odd curious hippo.
Mweya Safari Lodge rates range from US $203 per night and up.
For bookings call: +256 752 798882, +256 312 260260
APOKA SAFARI LODGE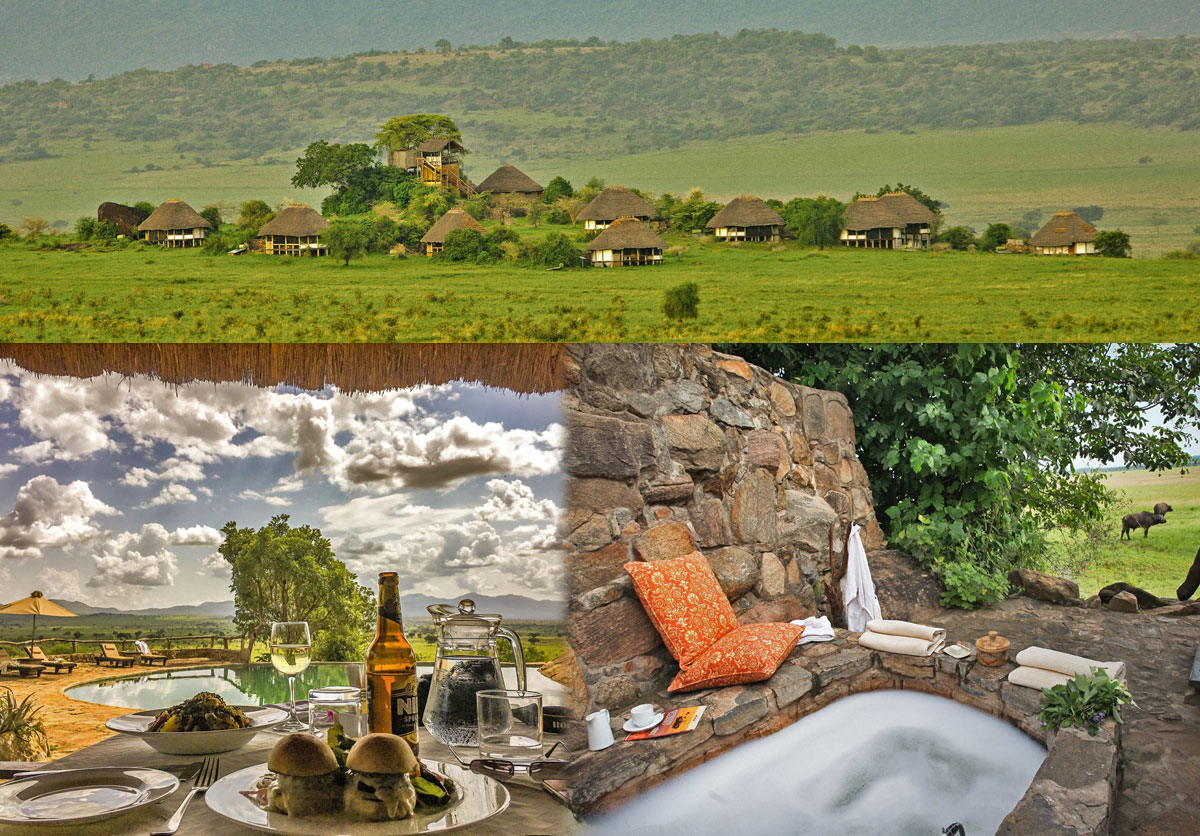 Located in Kaabong district in north eastern corner of Uganda. Apoka Safari Lodge is in the middle of one of Africa's best destinations Kidepo Valley National Park. This is Uganda's most remote park, far away from city life that boasts of being the only park in Uganda with the cheetah.
The rooms at Apoka have been built with comfort in mind. Everything is handmade by local craftsmen, and it is large and capacious. 10 expansive rooms with natural canvas walls surround a rocky kopje with endless views across the savannah. With an inside sitting rooms and private verandas there are plenty of places to relax, read and sprawl. Big hand-hewn beds with soft duvets are draped with mosquito nets, hand-woven woolen carpets, extra-large plush towels, oversized dressing gowns.
Wildlife in Kidepo is abundant. Lions, leopard, cheetah, elephant, giraffe, zebra (this is Uganda's only park where giraffe and zebra are found together), possibly Africa's largest herds of buffalo, hartebeest, waterbuck, bushbuck, warthog…the list is endless. Better still, much of it can be seen from the privacy of your veranda or your outdoor bathtub, but the best way to see the wildlife is up close: on foot, or in one of our open-top Landcruisers.
Apoka Safari Lodge rates range from US $399 per night and up.
For bookings call: +256 414 251 182, +256 772 489 497
BIRDNEST BUNYONYI RESORT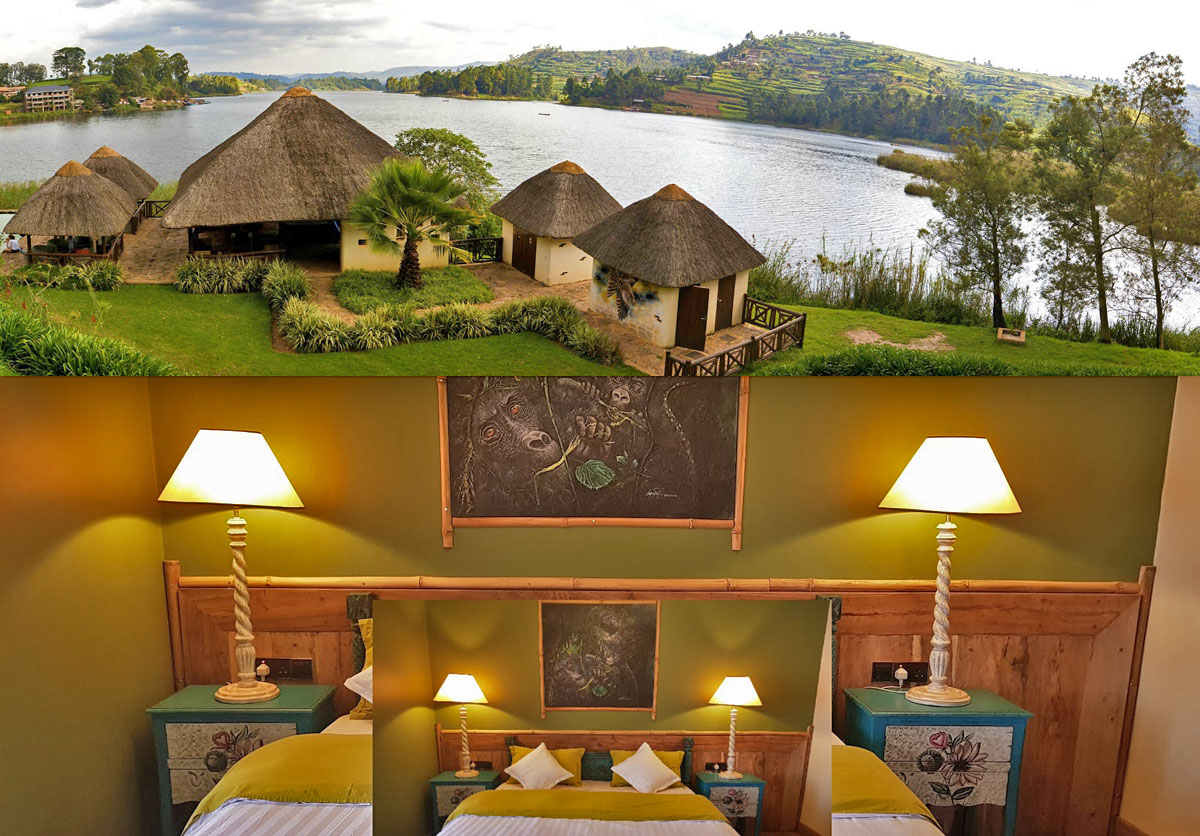 Birdnest Resort is located in Kabale district on the shores of Lake Bunyonyi, a breathtaking oasis of serenity. All 15 rooms have full panoramic lake view completed with 7 cottages across the water in a peaceful ecological setting.
Birdnest Bunyonyi Resort was started by Francis (Frank) Kalemera Kalimuzo in 1963 he started putting up the first building at the lake. The building was meant to be his home, but this never happened because even as he built, tourists asked to stay there. The hotel was completed and people from Kabale and afar flocked to the hotel. This was the beginning of tourism at Lake Bunyonyi.
Birdnest Resort rates range from US $399 per night and up.
For bookings call: +256 0776 252560, +256 754 252560
SANCTUARY GORILLA FOREST CAMP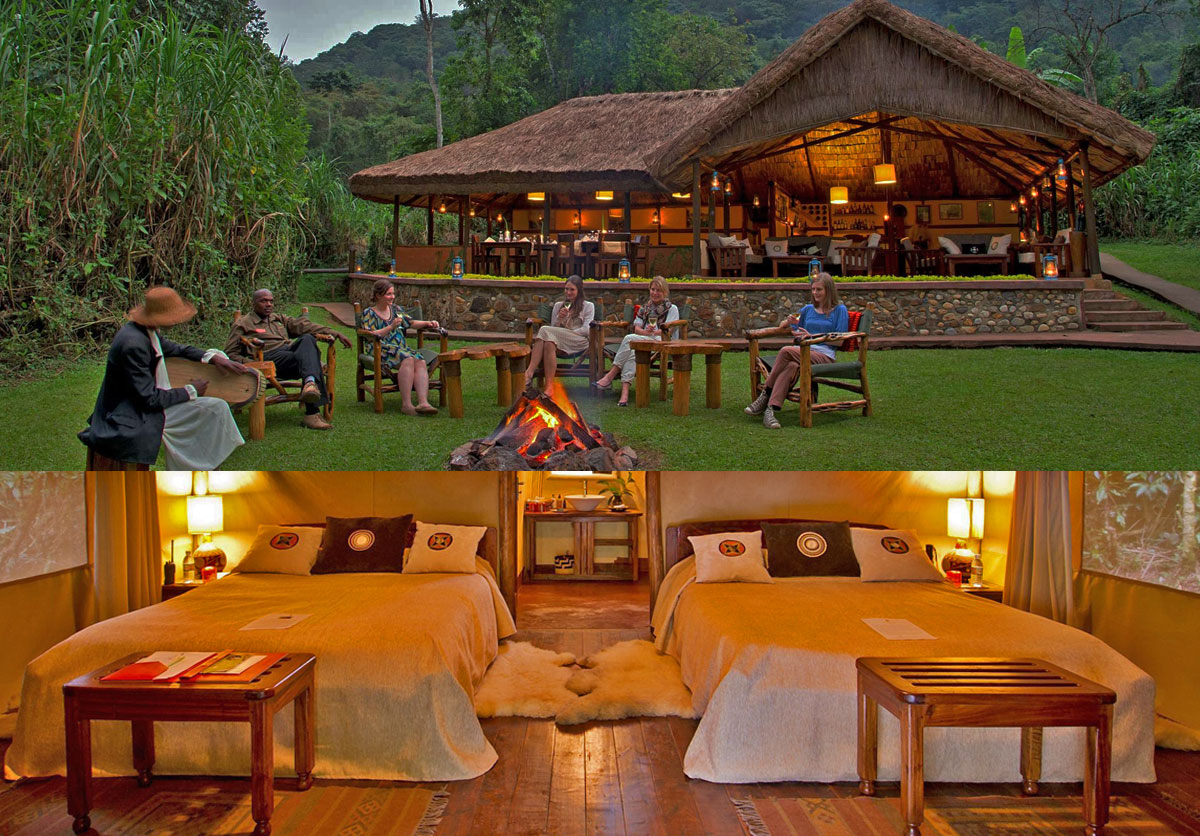 Sanctuary Gorilla Forest Camp is located in Kanungu district, southwestern Uganda. You can encounter a once-in-a-lifetime experience with Uganda's endangered gorillas when you stay in one of the eight private luxury tents in the heart of the Bwindi Impenetrable Forest.
Ecologically respectful, contemporary-yet-classic in style, Sanctuary Gorilla Forest Camp blends in sensitively with the dramatic African mountain landscape and, situated uniquely inside the national park, you are only minutes away from the start of your gorilla trekking adventure.
Many reasons why you should make Sanctuary Gorilla Forest Camp your holiday destination and these include the frequent visit by gorillas due to its unique location, exclusive camp with eight tents is a perfect base for once in a lifetime trip to track mountain gorillas, community interactions with the local Batwa Pygmies, customized sedan chairs with support and harness which allows people with special needs to be carried into the rainforest to track gorillas in their natural habitat, an established philanthropy project at Bwindi Community Hospital which guests can visit.
Sanctuary Gorilla Forest Camp rates range from US $ $247 per night and up.
MIHINGO LODGE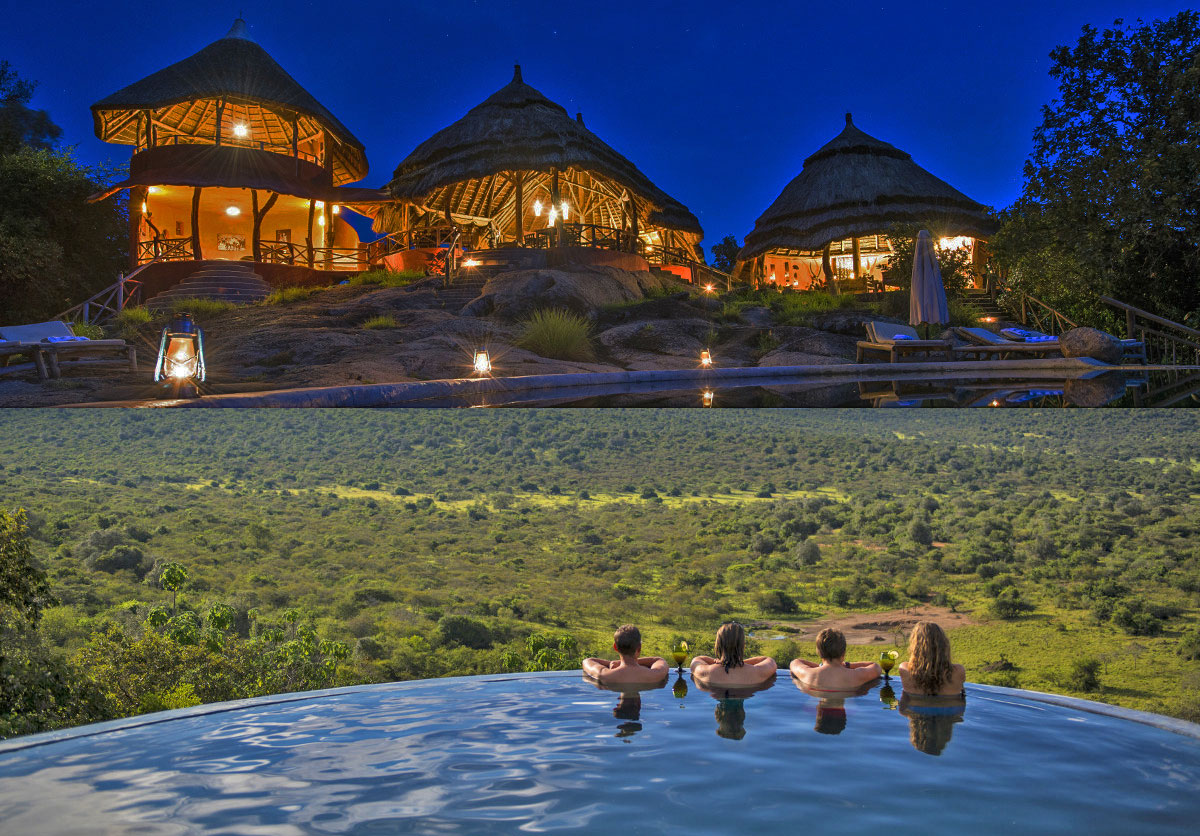 Mihingo is a luxurious lodge located in Kiruhura district, western Uganda in a magical setting adjacent to Lake Mburo National Park. Mihingo lodge is Perched high on a rocky kopje, whose pre-Cambrian granite boulders were formed over 500 million years ago, it has spectacular views over a vast savannah landscape. Designed to blend in with its fragile surroundings, this environmentally friendly lodge offers comfort, relaxation and the experience of being at one with nature.
An infinity pool overlooks the valley below where buffalo, eland, impala, warthogs, bush buck and zebra can be seen at the waterhole. On the rocks you may have the rare chance of seeing the resident family of Klipspringers. There is no guarantee that you will see a leopard, but on a night game drive, you have a good chance. As Rungwe Kingdon (the son of the well-known wildlife author, Jonathan Kingdon, and one of Mihingo's guests) once noted "I have seen more leopards in Lake Mburo National Park than any other park in East Africa".
Mihingo is the only lodge in Uganda to offer daytime and overnight horse safaris into the national park, other activities are Mountain biking, Walking safaris, Game drive, Night Game drive, Cultural visits, Visiting local schools, Boat trips.
Mihingo lodge rates range from US $ per night and up.
For bookings call: +256 752 410 509
SEMLIKI SAFARI LODGE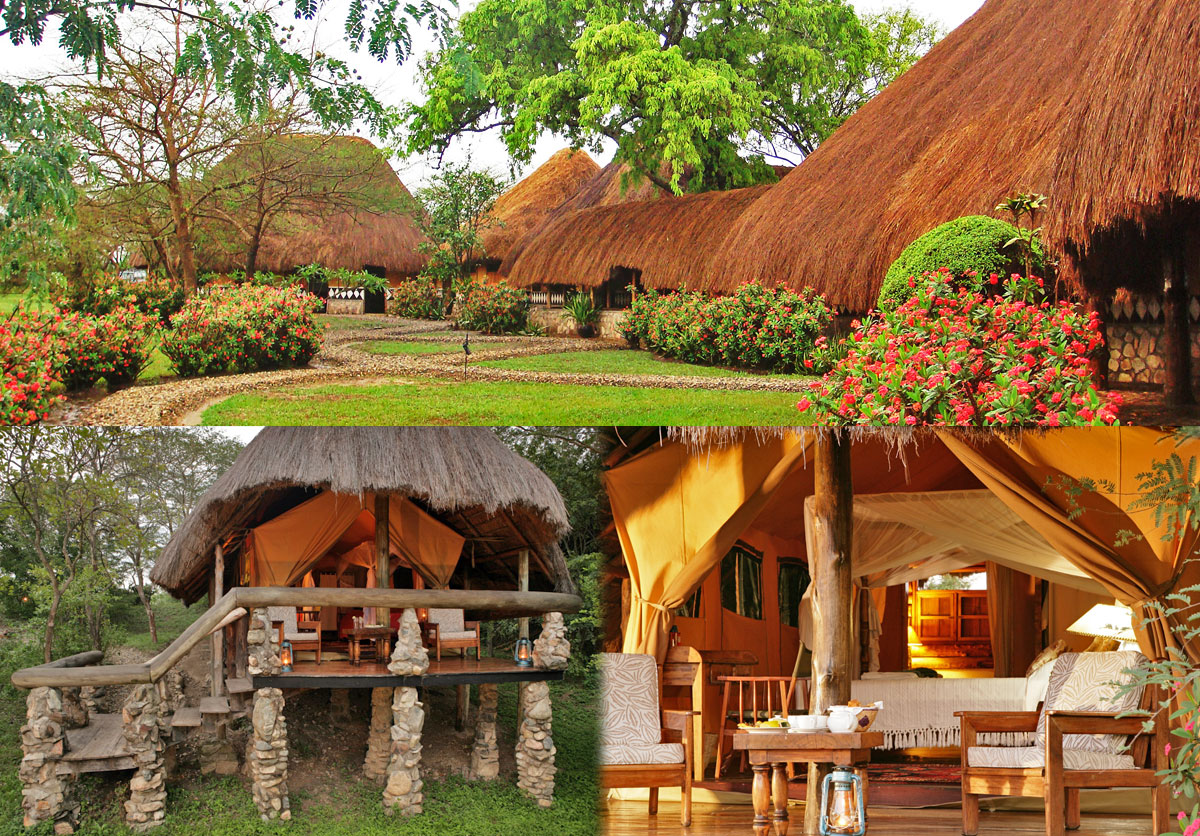 Located in Semliki Valley Wildlife Reserve, formerly called the Toro Game Reserve, in the Western Rift Valley, Semliki Safari Lodge is built in the grand old safari tradition with canvas tents under thatched roofs. Each room has a veranda with views of the mountains and savannah, forest and river valley. Surrounding them, guests have the Semliki Forest that houses an array of beautiful bird species. Also nearby are the Sempaya hot springs. The Lodge is well appointed, with Persian carpets, four poster beds in tents and an inviting pool that looks out upon the Congo's magnificent Blue Mountains.
Semliki Safari lodge offers various activities which include boat trips on Lake Albert to see the shoebill, birding with over 34 endemic species, guided walks, chimpanzee trekking, morning and evening game drives and visits to the local Batwa pygmy community.
Semliki Safari Lodge rates range from US $250 per night and up.
For bookings call: +256 414 251 182, +256 772 489 497
KATARA LODGE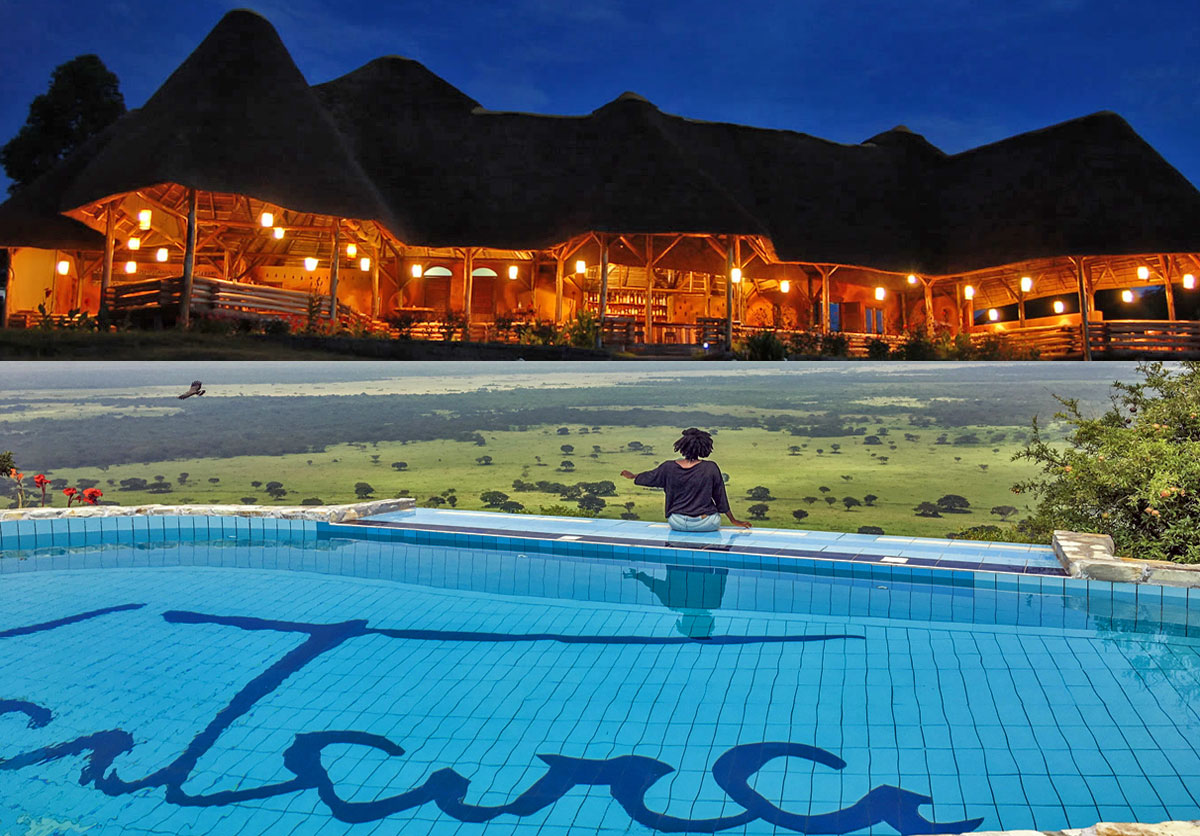 Located on the Great Rift Valley escarpment with uninterrupted views of the savannah, Lake Edward, the Virunga and Rwenzori mountain ranges beyond, Katara Lodge is located 16km from the Katunguru gate of the Queen Elizabeth National Park, which is Uganda's premier safari destination and one of the most biodiverse reserves in the world.
The park's varied habitats, which include open savannah, dense papyrus swamps, crater lakes, the extensive Maramagambo Forest and the forested Kyambura Gorge, are home to almost 100 mammal species and over 600 bird species.
The lodge offers accommodation in eight luxurious thatched cottages on a beautiful stretch of hills overlooking the open savannah in a serene and relaxing atmosphere. Each spacious cottage was hand crafted using locally available materials and carved into the hillside by the Katara village community. The cottages combine wooden floors, grass thatched roofs and canvas that can be folded away for uninterrupted views of the park stretching out below.
Katara Lodge rates range from US $200 per night and up.
For bookings call: +256 773 011 648, +256 757 812 560
Tweet