Legend has it that a couple, Nakangute Batesa and Nsubuga Ssebato expected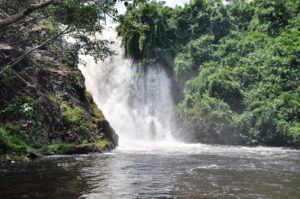 the birth of their child but instead of a human being, Nakangute gave birth to a stream of water which later divided into two rivers, Ssezibwa and Mumbeya. This is said to have taken place around the 16th century.
Our guide tells us that the falls are in Mukono district, but the water comes from a spring in Buikwe District.
The "black- river water" has long been the favourite of Buganda kings, and now a favourite for traditional healers who perform ceremonies for those seeking love, children, a good harvest, or success in business. It is said that both Kabaka Mwanga II and Muteesa II planted trees here in respect of the falls.
Tourism here is run by Ssezibwa Falls Resort Company. My first attempt at a trip to Ssezibwa Falls was discouraged by a colleague I had earlier inquired from about the place. He said it was not safe. So I settled for mid-day the next day. From the Internet, I gathered as much Information about the falls as I could. I discovered that for some time now, it has been the centre of contest between the Anglican Church and traditional healers, the healers accusing the church of encroachment.
The driver confirmed the traditional spiritual activity at the site, but was quick to add that lots of tourists flock the place, which put me at ease. At the turn to the right at Kayanja trading centre, just before the tea plantations, excitement kicks in. As we drive down the narrow murram road, I'm informed that there are two entrances to the falls, one on the side owned by Buganda kingdom, and the other owned by the Church of Uganda (COU). The two sides are separated by a small river. We followed the one that leads to the Mengo side.
At the gate, we are welcomed by a Luganda speaking man.  He instructs us to park by the entrance but after a few negotiations, he lets us in.
We are greeted by a  beautiful scenery: The well-kept green grass and tall trees, the smell of fresh air, and the rushing sound of falling water which can be heard in the distance.
A restaurant ahead: A stone-paved walk-way leads to it. Awed, I quickly descend down the slope to the falls about 50 metres from the compound. At the bottom, there is a small wooden bridge of about 30 meters that joins the Mengo side to the Church of Uganda side. The water beneath that flows from the falls appears black, and then separates into a Y-form.
We crossed the bridge and head for the cliff where there stands a small structure we learn is for worship for Christians every last Friday of the month.
Thank you, Justin D. Emedot for such a wonderful article
Source: Uganda Christian University
Tweet