Location
A visit to the Baha'i Temple on Kikaaya hill in Kanyanya on a sunny Saturday afternoon is my recommendation to anyone stressed out after a busy week.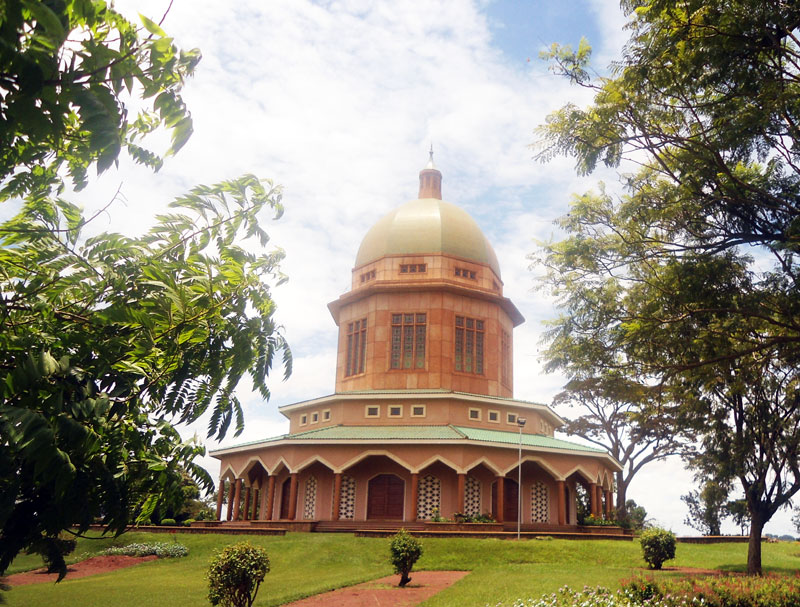 The beauty of this architectural design of a temple standing tall in the middle of a lush green well maintained lawn, in such a natural setting makes this place such a wonder!
Situated approximately 7 km north of Kampala on Gayaza road, this temple is also known as the Mother Temple of Africa because it's the only temple in Africa among 7 others in the world.
I wondered how such a beautiful place, located within the city can be so peaceful and fresh! This was the best hide out for some peace and quiet leisure to any person who wanted a rest from the noisy, crowded and busy life of the city. This is what I needed that Saturday.
Compound
The ambience within the temple grounds that lie on 55 hectares is very friendly and inviting. The temple doors are decorated with flower gardens at each temple door entrance. This atmosphere intrigues any visitor and makes them curious about the Baha'i faith. My guide for the extensive tour I'm about to make is Peter Wako. Some of the activities going on this particular Saturday afternoon include a youth class session in which some students are learning about Baha'i faith.
According to Peter Wako, these students come from neighbouring communities and schools to learn about Baha'i faith. They are taught the spirit of kindness, unity and one ness regardless of one's religion or tribe. In addition, the Baha'i people also carry out sensitization and awareness creation activities about the faith to the local communities at local council levels.
He further adds that this environment is maintained to act as an enticement for reflection once people come to the temple. I was feeling so peaceful already that I first took a walk alone, sat down under a tree for a while and later came back to continue with my tour.
The Baha'i administration also plans to develop social facilities using some of the hectares around the temple.
"We have plans to build schools and other centres on the grounds in future but for now, we encourage people to come and enjoy the harmony of the grassland and Baha'i temple environment for prayer and social purposes" Peter says.
The Temple
One would easily fall in love with prayer at the first step into the temple. The serenity and quietness within readily draws one's spirits into prayer. While sitted in the pew, I couldn't help praying. I simply found my body lowered to the temple woollen carpet, praying to God. And it felt good.
Constructed 50 years ago, the whole building, from the ground to the tip of the spire, is 124 feet high. It is 84 feet in diameter in the interior with a circumference of 265 feet. Also referred to as the Baha'i House of Worship, the Baha'i temple radiates a majestic splendid presence atop this hill that is visible to anyone standing on top of any of Kampala's other seven hills.
The temple has nine doors signifying the nine ways or religions whose messengers Baha'i followers believe in. It is the 'Mother Temple' of Africa, meaning it is the only one on the continent. There are six other temples in the world: in the USA, India, Panama, Samoa, Australia ,Germany and the one in Chile under construction.
Guidelines
This place is open every day for anyone to go and enjoy.
According to Peter, Baha'i faith welcomes everyone regardless of religion because the Baha'i faith promotes unity of faith among people because all these religions believe in God.
While in the temple, all phones must be off or in silence
Plucking of flowers as well as plants, use of compulsive drugs as well as consumption of alcoholic drinks is prohibited in this area since it is a place of worship.
Do not take pictures while in the temple. It is prohibited
How do I get there?
To get to the Baha'i Temple take a Gayaza taxi from the old park in Kampala town. It should cost 1,500 UGX. Get off at the GAZ fuelling station at Kanyanya . If you have no car or if you haven't hired a cab from town, get a boda boda (motorcycles for hire) by the stage to the temple. It is dusty routes so maybe carry a pair of shades and a scarf or cap for your hair.
Facts about Baha'i faith in Uganda
It was introduced in Uganda in January 1958
It is estimated that there are over 1,000 Baha'i followers in Uganda.
According to the guide, Baha'i followers are engaged in community activity that they feel will bring about peace. They take time off our different pursuits to teach the principles of the faith. These are the oneness of God, the oneness of religion and the oneness of humanity.
By Zirenah Rehema
Tweet