When my boss confirmed that I was representing her among a group of journalists in a media trip to Bwindi Impenetrable National Park, I was elated!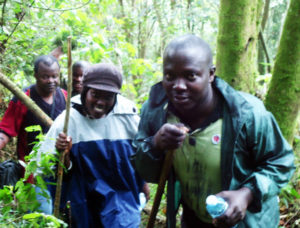 I was like a teenager excited about her first date.
The mere thought of coming close to the popular 'human cousins' was electrifying.  I was finally going to have some experience about gorilla trekking; my own story to tell. I remember packing my travel bag three days to the trip. I got in touch with colleagues who prepped me about a gorilla trekking exercise. I even remember borrowing a sturdier pair of canvas shoes from my sister, just to make sure I have the best trek.
Our trip from Kampala, the capital city of Uganda to Bwindi Impenetrable National Park in the south western part of Uganda lasted two days. It was a very long journey to me but the conversations and arguments I listened to, between these journalists, gave me comic relief for the road. We spend a night in Kabale; a district 430 kilometers from Kampala.
Kabale is a beautiful mountainous land with popular getaways to gorilla tracking trips at Bwindi and Mgahinga gorilla National Parks. It is one of Uganda's best mountain hiking destinations and also one of the best destinations in Uganda to explore superb mountain hiking with the Rolling Hills and Virunga Mountains at its border with Rwanda. The town also has an airstrip that makes it easily accessible.
The coldness of Kabale that night was not what I had prepared for. My fitting small coat and a shawl was a joke to my colleagues. They warned me before I left Kampala but I simply ignored. Now, I was suffering from a stomachache, caused by the cold as I coiled up in my lonely hotel room. I even had no desire to tour Kabale town that night because I was visibly shaking and biting my teeth because of the coldness. I went to bed early in order to get enough rest. We had planned to leave Kabale town to Bwindi Impenetrable National Park in the wee hours of the morning.
We arrived at Ruhija, one of the briefing centres of Bwindi Impenetrable National Park by 9:30 am the following morning. This centre is 50kms away from Buhoma, the park headquarters. According to our guide, we were going to trek the Oruzogo family of mountain gorillas. Oruzogo is a name adapted from a plant in the forest that is a favourite delicacy for this particular family.
During the briefing, everyone was informed about what to expect in the forest like stinging insects, wild poisonous plants and the muddy ground during the rainy seasons. We were reminded that we would have two body guards, for security purposes and were told to equip ourselves with strong shoes, a walking stick, a bottle of water and a rain coat. The park management aided us with some pairs of gumboots, walking sticks and rain coats commonly known as condos for those who didn't have. I opted for the gumboots, because I wanted to be more than comfortable even through the muddy vegetation.
Trekking officially begun at 11:00am and I, the only lady in a group of ten was advised to lead the group because they thought, I would move at the slowest space.
I wanted to challenge these guys. I wanted to show them that I wasn't a weakling just because I was a lady so I excitedly ran, jumped and hiked away. I used my stick to climb steep hills and run down slopes. It was fun for the first hour and then booh! My body was knocked out of breathe! Initially, I under estimated the effects of trekking such undulating lands as the Bwindi forest. (Trekking takes place 8000-10,000 feet above sea level).
With the effects of hiking taking effect, I found myself slowing down steadily. Once leading the trekking group, I found myself in the middle, breathing heavily but with a brave heart. I didn't want to admit that I was getting tired. Gesa Simplicious, a warden writer at the park sensed this and suggested that we get a "water break". I was the first one to agree.
During the break, we interacted with the guide, Benson Kanyoni, asking questions about the life of this family we were about to meet, among other wildlife topics. He also told us about the wild poisonous plants. We got a chance to see the Oruzogo plant and a fresh gorilla nest to which we struggled to take pictures. A gorilla nest is where the male and female gorilla mate. Then we continued with our journey.
Dear reader, our day had begun on a very cold, cloudy note and it stayed that way for more than half of the day. However, this did not stop sweat from oozing through every pore on my skin. I couldn't resist getting rid of some of my clothes. I began with my coat, then the shawl and remained in my trouser jeans and sweater top. To make my journey simpler, I wrapped the coat and shawl around my waist.
The forest vegetation was a source of freshness. When we had emptied our mineral water bottles, our thirst was quenched by the fresh air we breathed in from the forest green vegetation. Everyone was impressed by my energy throughout the journey. I was very tired but all this feeling remained a secret because I am not a weakling remember?  We were just two hours into the journey but some people were already tired. Gorilla trekking can take 1-4hours or even more.
As we penetrated the impenetrable Bwindi, we buried our thoughts into discussions about the nature and the history of this great forest. We couldn't just give up because we were near; at least that is what our guide kept telling us.
The surprise call from one of the guides in the forest to Benson brought good news just like the star that appeared to the three wise men in the bible. The Oruzogo family was less than two kilometres away.
'It will take us less than 3o minutes to get there. Don't worry, we will be there shortly.' Benson turned and assured us.
Breathlessly, some of us even increased our pace. In less than the 30 minutes mentioned, we were suddenly stopped and told to keep quiet. We were now in the Oruzogo family territory. Although many were hidden in the thick forest trees, we could hear their I was now in the company of the gentle giants.
We are briefed again about gorilla behaviour and how we should behave while near them. Among these behavioral guidelines were issues like leaving our walking sticks behind because they send a wrong impression to the gorillas-they think you are an enemy who has come to hurt them. We were also reminded to switch off camera flashes because gorillas hate them and also, to leave behind any mineral water bottles and other snacks.
Then we moved closer to meet the Oruzogo family!
I learnt that all habituated Gorillas in Bwindi have names that all guides know. Bakwate, a silverback in the family couldn't stand us intruding his comfort zone so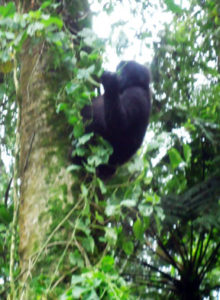 he first charged, then backed loudly and proudly thumped his chest; it was a sight to behold! Benson explained that they usually charge when they want to defend themselves from the enemy. He (Bakwate) however calmed down and posed for us to take as many pictures of him as we wanted and he left shortly after.
As we struggled to have a better view of him, we discovered Kakobe, a female with Toto, her young one. The strong mother-to-child bond was priceless as the two enjoyed their meal. She later protectively carried her onto her laps and started feeding her with tree branches. The sight of the two gorillas together was intriguingly sweet and incredible. It was such a remarkable sight. Mother and child suddenly sat still for two minutes, as if posing for the cameras, then disappeared into the bush. Their behavior is so much like that of humans.  No wonder they are 97% related to human beings! The Oruzogo family boasted of 23 members then; 2 silverbacks, 8 adult females, 4 juveniles, 5 infants and 5 black backs.
In silence, we struggled to have more views and shots of all the Oruzogos as they played in tree branches, and as some enjoyed their lunch time meal; oruzogo plant. I couldn't believe it when our one hour visit came to an end.
Even though we huffed and puffed all the way back on the steep slopes of the rugged Bwindi forest under heavy rains, the feeling of satisfaction we had obtained from trekking and coming close to the mountain gorillas kept us going. It was worth all the effort.
Tips on what to carry on a trekking exercise
Clothing: Equip yourself with the best walking shoes that can stand muddy and rugged landscape. They should be comfortable too. Cotton, light and warm clothes are recommended for this exercise.
One can carry a pair of gloves if you can to protect you from thorny vegetation. Also, carry a rain coat because tropical weather is very unpredictable.
Insect repellants can be included in one's first aid pack.
Luggage: Carry as little as possible because walking tires you out. However, one can hire a porter to help out in carrying a heavy bag. This usually happens to people who carry cameras and gadgets like tripods and lenses. The porters are local people who work day-to-day and are not officially employed by the government or the park.  Their rate is $10-$15 dollars (plus $5 tip if you want).
Food: It is advisable to carry a bottle of water and a snack for this journey.
Gorilla Trekking Rules and Guidelines:
Trekkers must be at least 15 years of age
Groups are limited to 8 people per day
Once gorillas are located, travelers are limited to one hour of observation and photography, and they must try to keep at least 10 meters away from the animals.
Gorillas are susceptible to many human diseases so you should not go gorilla tracking if you have flu or a cold as you may be asked to turn away from the gorillas if you need to sneeze.
Listen to guiding instructions given at the briefing centre and during the course of trekking.
Where to find gorillas in Uganda
Bwindi Impenetrable National Park
Mgahinga National Park
By Zirenah Rehema
Tweet