Uganda is "Blessed by Nature" with a wide range of rain forests, wildlife sanctuaries, rich cultural history, spectacular national parks, active volcanoes, botanical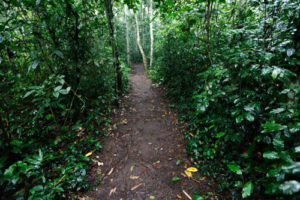 gardens, snowcapped mountain with their rich flora and fauna gives you abundant and diverse choices making it the perfect country to visit if you are interested in environmental tourism and the unforgettable wildlife experience.
Eco-tourism is "responsible travel to natural areas that conserves the environment and improves the well-being of local people." (TIES, 1990)
Eco-tourism basically focuses on environmental conservation and sustainable development. Eco-tours help to save forests, cultures and the environment in general. Saving the environment around you and preserving the natural luxuries and forest life, that's what eco-tourism is all about. Whether it's about a nature camp or organizing trekking trips towards the unspoilt and inaccessible regions, one should always keep in mind not to create any mishap or disturbance in the life cycle of nature.
For nature loving travel and recreation, we welcome you to the Pearl of Africa. Eco-tourism here focuses on local cultures, wilderness adventures, volunteering, personal growth and learning new ways to live on our vulnerable planet. It is travel to destinations where the flora, fauna, and cultural heritage are the primary attractions like our well conserved national parks, forests and mountains.

Eco-tourist places in Uganda
Eco-tourism sites in Uganda are endowed with an abundance of wildlife and ever green vegetation. The attractions is the apes, birds, butterflies, green vegetation, reptiles, flowers and wild animals like elephants, baboons, warthogs, chimpanzees, bush backs, monkeys, bush pigs, buffaloes, mountain gorillas and cool natural fresh air and many more….
Lutoboka, Kampala and Bunjazi Central Forest Reserves
Kalinzu Central Forest Reserve
Mpanga Central Forest Reserve
Busingiro Eco-tourism site
Kaniyo – Pabidi- Ecotourism site
Kasyoha- Kitomi Forest Reserve
Find more details from Uganda wildlife Authority.




Tips for Best Eco-Tourism
Eco-tourism is about uniting conservation, communities, and sustainable travel. As a traveller, you will have an impact on the environment and culture of the place you are visiting.
The basics of eco-tourism are the same everywhere. The foremost of the rules are that the tourism advises to minimize impact, spread awareness about the environment and the harm caused to it.
Today the "Green Laws" of conservation are making people aware of how man and the environment can live symbiotically for more time to come and eco-tourism is the only way to maximize the economic, environmental and social benefits of tourism. Some basic do's and don'ts are listed below:
What to Do
Carry back all non-degradable litter such as empty bottles, tins, plastic bags etc. These must not litter the environment or be buried. They must be disposed in authorized dustbins.
Cut noise pollution in nature camps, sanctuaries and wildlife parks.
In case temporary toilets are set-up near campsites, after defecation, cover with mud or sand. Make sure that the spot is at least 30 meters away from the water source.
Respect people's privacy while taking photographs. Ask for prior permission before taking a photograph.
What not to Do
Do not take away flora and fauna in the forms of cuttings, seeds or roots. It is illegal.
Do not use pollutants such as detergent, in streams or springs while washing and bathing.
Do not use wood as fuel to cook food at the campsite without permission.
Do not leave cigarettes butts or make open fires in the forests.
Do not consume drinks, drugs or anything and throw bottles in the wild.
Do not tempt the locals, especially children by offering them foodstuff or sweets. Respect local traditions.
Polythene and plastics are non-biodegradable and unhealthy for the environment and must not be used and littered.
Tweet